Red List Assessment Workshops
The Global Marine Species Assessment (GMSA) Red List workshop methodology is now well-refined, and follows strict scientific criteria which have been developed over the last 15 years by some of the world's leading scientists in conservation. The criteria are designed to determine the threatened status of an individual species in terms of extinction, placing it into one of nine categories. The IUCN Red List Criteria and Categories are the most accepted and widely used measurement of global threat worldwide at the species level. Assessments are typically accomplished in a workshop setting that allows the objective review of compiled species-specific data by recognized scientific experts in the relevant field. Following a workshop, the resulting data, including digital distribution maps, is peer-reviewed, published on the IUCN Red List of Threatened Species, and analyzed to identify species and geographical areas of concern. Ultimately, the Global Marine Species Assessment will provide the information necessary for a global marine hotspot analysis, as well as the identification of Key Biodiversity Areas in the marine realm.
The Red List Criteria are applied to specific information about each species, which is comprised of the most up-to-date scientific information available. This includes information from peer-reviewed journals, gray literature such as fisheries and government reports, and unpublished data provided by our most important source of information – our ever-growing network of volunteer scientific experts. At the workshops, experts verify and supplement the information in our database with on-the-ground knowledge that would be nearly impossible to collect and capture any other way. This workshop methodology captures the most up-to-date, scientifically sound, peer-reviewed information on each assessed species, to enable important decisions about the conservation of the marine environment to be made with confidence. For more information, please see our detailed workshop process page.
The IUCN Red List Categories define the extinction risk of species assessed. Critically Endangered (CR), Endangered (EN) and Vulnerable (VU) species are considered to be threatened with extinction.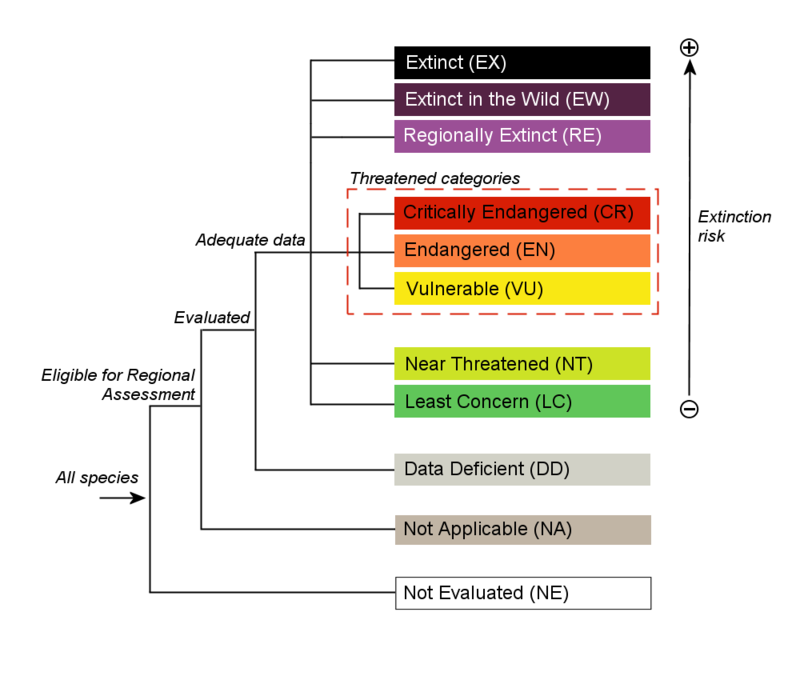 read more about the IUCN Red List Categories