A poster that I got from the Holocaust Museum at 14 says it best: "It is not enough to be compassionate. You must act." Tenzin Gyatso asserted this in the fourteenth Dalai Lama in 1992 and it still rings true today. Groups like the Righteous Gentiles and White Rose members were adamant about German resistance to Hitler, but at what cost? The students that bravely sent out leaflets denouncing the regime ended up being killed during World War II, so their deaths were a warning sign to others who might have potentially advocated against war efforts as well.  Religious leaders that opposed Nazis were crucified; Armenian religious leaders were hung above their congregations in the Armenian genocide as well. Because of these atrocities, people have created memorials in the United States and throughout the globe. Author Ronald Berger reminisced on visiting a concentration camp in Poland as being 'just like going to any other event' where they sold concessions, had pamphlets and tour guides. Memorial sites are commodified for financial gain and psychologically, people feel a disconnect from being oppressors by paying to see these sites. Perhaps its self-righteousness, but I can certainly remember visiting the Holocaust Museum at 14 and being overwhelmed with feelings of disgust at the Nazi regime because I knew that I could never commit those acts. Maybe this is a far reach, but most people don't carry out evil acts to destroy entire groups of people. The sad thing is that mob mentality and a necessity for belonging lead a select few into cruelty.
Today, there are thousands of migrants being held at the Mexico-Texas border in cages because of a zero-tolerance policy from the Trump administration (Zhou 2018). Eerie photographs of cartoon-like murals of past Presidents decorate the walls of modern-day camps for migrants. Separation of children from their parents, relocation and ethnic cleansing all constitute genocide, so these camps are absolutely the start of an extreme genocide right here in the United States. Republicans and vehement immigrant-hating people are pushing the agenda that "these people are taking American jobs" much like Hitler's persistent speeches about "communism being the demise of Germany." This coupled with promises for jobs from both Donald Trump and Adolf Hitler strikes another creepy similarity between the Holocaust and Mexican genocide. Fox News and other conservative media outlets painted border patrol centers in the United States as safe havens for the children of migrant parents, despite the fact that mere aluminum foil sheets were distributed as blankets. It seems like there are gross underrepresentation's of horrors that the American government is committing on a daily basis, but people are opting to not watch the news or not engage in political discussions out of fatigue. Where is the compassion fatigue from people on a humanistic level? Are we so enamored with bad news that we refuse to act?
Genocides happen out of fear of resistance. Even though the American government is actively trying to squash women's rights to birth control and other autonomous body decisions, many women don't take the time to call their local councils to enact change. Fear from sexual assault victims keeps others from making waves in the #MeToo and #TimesUp movements. We've seen people like Stormi Daniels and Dr. Christine Blasey-Ford get crucified on international television for speaking up about the wrongdoings of men in serious power. Donald Trump, Adolf Hitler, Brett Kavanaugh and Benito Mussolini all have similar characteristics/backgrounds: white privilege, male privilege, education and a following of people that believe in them. Although it's easy to declare that we wouldn't personally commit acts of violence to other individuals, isn't contemptuous ignoring in the same bracket as actually committing violence? If we witness a person being singled out because of identity politics, we must speak out from the bottom up. Webs of power only get inflated when we are too fearful to stop one-on-one instances of injustice.
Works Cited
Fraser-Chanpong, Hannah. "Surge in Unaccompanied Immigrant Children Pushes Texas Border Patrol to Its Limits." CBS News, CBS Interactive, 19 June 2014, www.cbsnews.com/news/surge-in-unaccompanied-immigrant-children-pushes-texas-border-patrol-to-its-limits/.
Zhou, Li. "These Photos Were the Trump Administration's Attempt to Quiet Criticism. They're Only Increasing Critics' Horror." Vox, Vox, 18 June 2018, www.vox.com/policy-and-politics/2018/6/18/17474986/family-separation-border-video.
---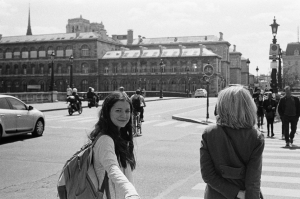 Mikalah Lake is a senior in the Women's Studies department, minoring in Psychology. She is drawn to Women's Studies because of the critical thinking and awareness the assignments require. Based off the female genealogy in her family, she hopes to break the cycle of oppression through the opportunities her education has afforded her. Areas of intrigue include global studies, intersectionality, public health, body modification and sexuality. She has an Instagram page called @bodyloristsofhr that aims to enlighten through personal stories.