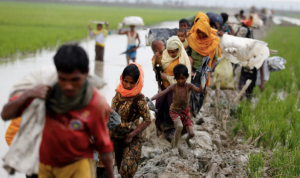 At first glance, after multiple genocides have been documented and dissected thoroughly one would think that we as a society have evolved to recognize when a genocide is about to happen or is actually happening, but unfortunately, we are not all the way there.
A situation in Myanmar, has been going on for a little over a year now. A group of people called Rohingya, have been fleeing  to Bangladesh for a year now. Rohingyas have been described as the worlds most persecuted people. They predominantly reside in a country called Myanmar, but this government treats them as stateless people and never recognize them. The Myanmar government denies the Rohingya citizenship, medical assistance, education and other basic services needed to survive. Around 21,000 Rohingya have fled to Bangladesh from Myanmar to escape violence and death the Myanmar government is doing to these people. The governemnet is going into the towns where they llive and killing then burnng down the town. There have been reports of at least 6,700 Rohingya, including at least 730 children under the age of 5 have been killed. It has also been documented that Myanmar military have been rapping and abusing women and girls. Myanmar's government claims that this group has been violent and that he violence was for "protection" but from various reports these people are not violent at all. The government has denied all accusations of the violence and killings that have been happening after September 5, 2017 but have banned foreign journalists and independent investigators from coming to the area. The government is claiming that the killings that have been going on are "ethnic cleansing." This term should sound familiar because it is the same thing that Hitler was doing during WWll.
Although the Rohingya people are fleeing to Bangladesh, the Bangladesh government has increased boarder control to keep them out claiming to "not wanting to be involved in the situation." By the country making this statement, is basically acknowledging the fact that there is actually something going on and they do not want to be involved. Before this situation escalated, refuges from Mayanmar were going into Bangladesh without any problems, but as the situation is escalating Bangladesh has had enough and wants to completely cut ties with them. With Bangladesh cutting ties and the violence these people are facing in Mayanmar, Rohingyas are forced to make camp outside the boarder of each state. More than 307,500 Rohingya refugees have made camp in the in between space for protection. Bangladesh has still provided some resources for the refugees such as emergency latrines being built and assisting in building more shelters for the refugees. Other countries and aid agencies, such as the United Nations, have tried to assist but have been blocked off because the refugees are "in a combat zone" deeming it unsafe to bring people in and out.
There is not a whole lot of information on this topic in the daily news. There are only a few news stories on this situation, and even though they are on some national outlets it is still a topic not many people know about. This issue matters because there are masses of men, women and children dying by the hands of one group for unethical reasons. Although many countries are helping and have urged Mayanmar to stop the violence, there is still a central problem happening in Mayanmar that needs to be addressed more aggressively and stopped in order to end the killings and abuse.
This instance is so important also because it is an example of how the world again is not paying attention and of how we as a society needs to wake p and realize what is going on in other parts of the world. We should have learned the lesson during the many genocides that have happened in. past history. It's time for us as a nation to wake up and fight for those that are being marginalized.
Works Cited
Holmes, Oliver. "Myanmar Blocks All UN Aid to Civilians at Heart of Rohingya Crisis." The            Guardian, Guardian News and Media, 4 Sept. 2017, www.theguardian.com.
Morello, Carol, and Max Bearak. "U.S. Declares Attacks on Burmese Rohingya Muslims 'Ethnic    Cleansing'." The Washington Post, WP Company, 22 Nov. 2017, www.washingtonpost.com.
"Myanmar Rohingya: What You Need to Know about the Crisis." BBC News, BBC, 24 Apr. 2018,   www.bbc.com/news/world-asia-41566561.
---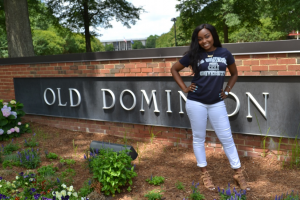 Hi! My name is Monique, I'm currently a senior at Old Dominion University majoring in Women's Studies. I am interested in many things such as reproductive rights, animal rights, environmental justice, and a lot more.