For this assignment, we were tasked with creating a memorial for the fallen victims of a genocide or the Holocaust. I took inspiration from my contemporary blog issue assignment, and the letter that I wrote to the members and founders of the Black Lives Matter movement. For my contemporary blog issue assignment, I chose to write about the systematic killings of black people throughout the United States. While it doesn't seem conventional in terms of genocide, by definition this epidemic fits the description exactly.
As a memorial, I decided to create a video remember some of those who were shot and killed by police officers across the country. The video is rather bleak, however that's the point. It's a dark but truthful twist on the ABC's. The difference between the classic alphabet song that features pictures of objects that begin with a specific letter, my project showcases the name of those who were killed beside each letter. There are thousands of black people who are murdered each year in the United States. Reports can be found in the news of excessive force, shootings, and even lynchings.
In the United States of America there are over three hundred million people. Black people makeup about thirteen percent of the overall population. In 2017, over one thousand one hundred people were shot and killed by the police. Of those that were shot and killed, black people made up over twenty five percent of that number. In 2016, over one thousand people were killed by the police in the country. At the rate of recent events, the number of deaths due to police shootings is expected to climb in 2018. While conducting research, each source reported different numbers for each year. One could guess that this is due to the fact that many cases go unreported.
Despite all of the stories in the media, police shootings and brutality are not the only things killing black people in America. According to research, almost forty thousand people are shot and killed each year in the United States. Everyday there are close to one hundred death throughout the country due to gun violence. Of all reported gun related deaths in the world, America makes up eighty two percent of the toll. Gun violence has somehow become a norm in American society with the many stories reported daily.
As a young black woman living within the United States of America, it's hard for me to try and separate my own thoughts and opinions on this matter from the work. It would be slightly different if I were writing about events of the past. All of the deaths reported in my final assignment are within recent years. My family, friends, and I have all been affected by this epidemic personally. Unfortunately, it isn't just black men who are being murdered although they make up the majority. The victims named within the video range from ages four to fifty four. This just goes to show the carelessness and recklessness that this country shows when it comes to lives of black people.
Every name shown within the project were all unarmed. There are twenty five names shown, and this is only about two percent of all individuals who were shot and killed. Each year within the U.S. The killings of black people as stated before is something that anyone living in today's society can see. My goal in creating this project was to shed even more light on the topic and share something that is so special to me with my classmates.
The only thing I ask is that despite personal beliefs, I'll be able to touch someone in the room. I would love to get involved with a local activist group in the area that supports Black Lives Matters, and is looking to create a positive change. It can be very easy to let anger take over and get the better of oneself but unfortunately that is the exact attitude and behavior that people look for. This has been something that has been instilled in me as a child, while i should have been fully enjoying my childhood I also had to be made aware of the fact that not everyone is going to like me just because of the color of my skin.
The killings of black people is not a matter that just begun in recent years. This is something that has been going on since black people were brought over from Africa and forced into slavery. Unfortunately, this is not a battle that is going to end anytime soon. No one can say what will stop this epidemic however it starts with changing how black people are viewed in society. The idea that the white man is superior and that blacks are inferior has to be abolished as well. With hope in mind, this rhetoric will end with future generations to come.
---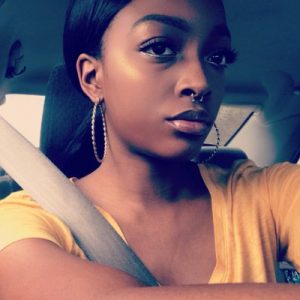 Reshaé Butler is a 23 year old senior at ODU working toward obtaining her degree in fashion merchandising in Fall 2018. She originally transferred from a private school in NOVA called Marymount University. She currently works in retail, and is using her time there to learn more about what it takes to be in visual merchandising. Reshaé has spent her entire life in the Hampton Roads area, outside of her one semester at MU and has plans to move much warmer climates soon after graduation.