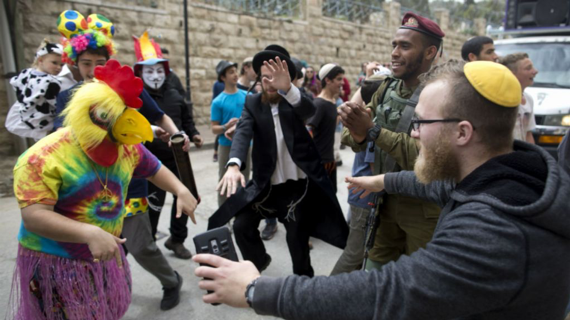 The Jewish holiday of Purim has been referred to as the Jewish "Halloween" or Jewish "Mardi Gras." Although it is 48 hours of festive parties, parades, dancing, eating, and a heck of a lot of drinking, there is a much deeper meaning behind this most joyous celebration. To understand the tradition of Purim, it is important to understand how it began.
A Brief History
The origin of Purim begins with the book of Esther1 in the Hebrew Bible. The story is told of King Achashverosh of Persia who, after executing his wife for not obeying his command of parading around naked at his enormous 180-day drunken festival, takes Esther as his new queen. At the advice of her cousin Mordecai, who was a gatekeeper for the king, Esther choses not to reveal that she is Jewish.
When Mordecai refuses to bow down to the kings prime minister, Haman, the angry Jew-hating prime minister convinces the king that the Jews are disloyal and they should all be executed. Haman then casts lots ("purim") to choose the date on which to execute the order. The 13th of the month of Adar is chosen.
When Esther learns of the plot, she intercedes on behalf of all the Jews. She reveals to the king that she is, in fact Jewish, and then tells the king of Haman's evil plan to have her executed as well. A furious King Achashverosh then has Haman hanged. Although the King could not stop the decree against the Jewish people, he writes another allowing the Jewish people to fight against their enemies. During the 13th and 14th of Adar, more than 75,000 enemies of the Jews are killed.
Soon after Mordecai is promoted as the new prime minister and he, along with Esther, establish the annual practices of the holiday of Purim commemorating the saving the Jewish people from Haman. Purim is celebrated on the 14th of Adar.

"And in every province, and in every city, whithersoever the king's commandment
 and his decree came, the Jews had joy and gladness, a feast and a good day.
 And many of the people of the land became Jews; for the fear of the Jews fell
 upon them." (Esther 8:17)1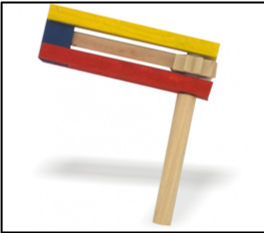 How Purim is Celebrated2

The Four Mitzvoth (Hebrew for "commandments") are:

1. Reading the Megillah 3(Hebrew for "scroll") of Esther. The scroll of Esther is read on the evening before Purim and the next morning recounting the story of the rescue of the Jews of the Persian Empire. Each time Haman's name is mentioned, it is customary to drown out his name using a noise maker 
(called a grogger) or by booing, stomping one's feet or banging on a table.              
2.Matanot La'evyonim:4 The custom of giving food or money to at least two poor people.
3. Mishloach manot 5(sending of portions): Sending a gift basket to at least one friend to ensure everyone can feast on Purim is required. The baskets should contain at least two different ready-to-eat food items: two items of food or one food and one drink, or even two drinks.
4. The Seudah:6 A festive meal, including intoxicating drinks, during the daylight hours of Purim is served. Family and friends are invited to share the meal that must begin before sundown and can last into the late evening.

Other Customs and Traditions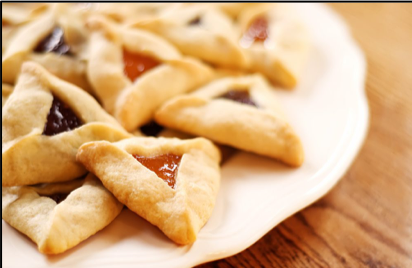 Along with fasting the day before Purim and reciting special prayers the day of, the young and old alike take this day to dress in costumes to symbolize God's hidden miracles. Dressing in costumes is also attributed to representing Esther's concealment of her Jewish identity. Many choose to wear costumes of Jewish heroes or characters from the Purim story.

Eating traditional Jewish foods such as hamantashen,7a three-sided pastry representing the hat or ears of Haman, is also a must. The pastries are traditionally filled with jelly or poppy seeds, but can be stuffed with any scrumptious filling. Another favorite dish is Kreplach,8 a potato, cheese, or meat filled dumpling eaten in a soup broth. Kreplach triangular shape represents Judaism's three patriarchs: Abraham, Isaac, and Jacob.
Until recently, I had not heard of Purim. Food and fun. Plays and parades. Costumes and charity. I can think of no better way to let loose and celebrate the day thousands of ones ancestor's narrowly escaped mass annihilation.
1 "Esther: Full Text." Jewish Virtual Library. Last modified 2019. https://www.jewishvirtuallibrary.org/esther-full-text.
2 "A Brief Synopsis of the Book of Esther." NJOP. Last modified August 3, 2010. https://njop.org/resources/holidays/complete-guide-to-holidays/purim/a-brief-synopsis-of-the-book-of-esther/.
3 Shiezoli. "Reading the Megillah in Boyaner Shul." YouTube. March 19, 2011. https://youtu.be/FIrspekCxno.
4 Golding, Ayala, and Matt Matt Goldberg. "Try an Old Purim Tradition: Matanot La'Evyonim." Jewish Community of Louisville. Last modified February 23, 2012. https://jewishlouisville.org/try-an-old-purim-tradition-matanot-laevyonim/.
5 Yosef, Rabbeinu Ovadia. "Matanot La'Evyonim : Daily Halacha Based on the Rulings of Maran Rabbeinu Ovadia Yosef Zt"l." Halacha Yomit. Last modified March 11, 2019. http://halachayomit.co.il/en/default.aspx?HalachaID=1900.
6 "The Festive Purim Meal: Seudat Purim." Jewish Holidays. Last modified September 19, 2016. https://www.ou.org/holidays/purim/festive-purim-meal-seudat-purim/.
7 Pollack, Stef. "Hamantaschen Recipe – Tips for Perfect Purim Cookies." Cupcake Project. Last modified March 11, 2019. https://www.cupcakeproject.com/hamantashen-recipe-tips-to-make-perfect/.
8 Tramiel, Preeva. "A Kreplach Recipe That's Worth the Work." Jewish Women's Archive. Last modified September 23, 2011. https://jwa.org/blog/kreplach-recipe-thats-worth-work.
"Colorful Wooden Purim Grogger for Children." Judaica Store. Last modified 2019. https://www.ajudaica.com/Colorful-Wooden-Purim-Grogger-for-Children/item19916.
"Hamantashen." Goway Travel. 2017. https://blog.goway.com/globetrotting/2017/02/recipe-hamantashen/.
"Purim 2019." Tumblr. 2019. https://tumblr-layouts.me/wp-content/uploads/2019/08/hanukkah-2019-hanukkah-2019-purim-2019-how-is-the-jewish-holiday-celebrated-the-1-1024×576.jpg. 
---