There are many instruments in our world. Some people have played, seen, listened to, or learned how to play various types of instruments, whether it be the Triangle or the Theremin. Some people seek out learning to play an instrument because of the way it sounds or maybe learning it will make a person better academically. But, have you ever thought that there might be a musical instrument that is simple yet so symbolic and significant? Have you ever heard of or seen a Shofar?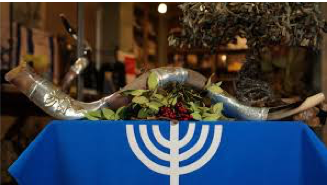 What Does It Look Like?
The Shofar is a Jewish instrument that is usually made from a ram's horn. Depending on how it is shaped, a Shofar can look like a short-curved question mark or it can be long with two or three curves. The color of a shofar is natural and depends on the ram. If the animal is considered kosher, then their horns can be used. Because of this, the size, color, and structure of the shofar can vary.
Who Uses A Shofar and How?
Adults and children can participate in blowing a Shofar. However, during Synagogue service, the Shofar is usually blown by a Rabbi. Even though the Shofar can be blown by anyone, some people may not be able to blow the Shofar because of the lack of enough breath energy. Rosh Hashanah is the only holiday that exempts a group of people from blowing the Shofar. Because of the other obligations that women must do during Rosh Hashanah, family duties, women are commanded to listen to the blowing of the Shofar instead of blowing it themselves (Chein Rochel).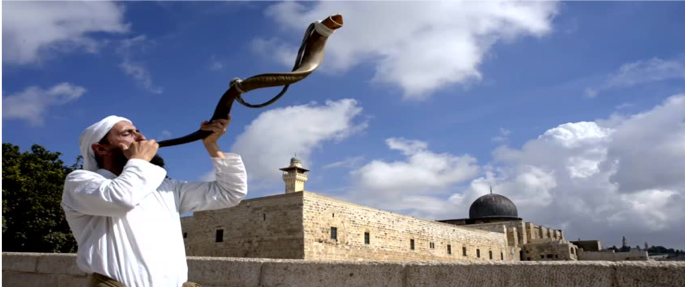 If a person knows how to play a brass or wind instrument, like a French Horn or a Trombone, then "playing" the Shofar shouldn't be that difficult. Just like any brass instrument, a person must vibrate their lips to make sound come out a Shofar. Many people who know how to play a Shofar will blow from a side of their mouth until they find the right sound ("Shofar Guide"). Once a person has found the right sound and has gotten into the rhythm of blowing into a shofar, that's when a person is ready to play ritual sounds. There are four ritual sounds that are played by a Shofar: T'key-ah, Shvarim, True-ah, and T'key-ah Gdolah (Shofar Guide). Each ritual sound is either a variation of one another or an expansion of one another. The last ritual sound, T'key-ah Gdolah, is the most dramatic sound blown out of a Shofar, "usually to announce the end of the day of Yom Kippur" ("Shofar Guide").  Even though it may look simple, a Shofar requires enough breath energy to play. If someone is not careful, they could possibly faint or feel lightheaded.
The Different Variations of The Shofar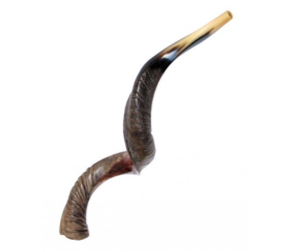 Although a ram's horn is typically used, the horn of any kosher animal can be made into a Shofar (Moon, Debrah). Overall, there are four types of Shofars that are played. These variations are based on the style of the shofar and different cultures within Judaism that use the Shofar as well. The Shofar that is made from the ram's horn is viewed as the most authentic type of shofar: it's a classic. Many Jews view this shofar to be the most authentic because it is a reminder of Abrahams faith in God before almost sacrificing his son Isaac (Juvok, Paulina). The second type of Shofar is the Yemenite Kudu's horn Shofar. This shofar is commonly used among the Yemenite Jews. These Shofars are made from the horns of the African antelope. Because these Shofars are made from the African antelope, the sound that resonates from them, a fervent brass sound, holds spiritual significance: "Keeping God's mitzvoh" (Juvok, Paulina). Not all Shofars are made for instrumental use, the Illustrated Shofars are made for decorative use along with religious use. These types of shofars are not considered Kosher, one should not blow this type of shofar at a Jewish Festival. However, through their decorations, these Shofars can show off one's proudness of their background, artistic abilities and one's connection and bond rooted in their faith. As for religious purposes, Illustrated Shofars are treated like Menorahs on Hanukkah, a religious symbol. Lastly, the fourth type of Shofars are the Silver Adorned Shofars. These Shofars are made from the horns of rams and silver. The silver is added to the Shofar as a decorative design. The reason for this design is due to the belief that ". . . in the Temple in Jerusalem, on fast days the principle ceremony was conducted with trumpets and shofars on the sides, made from ram's horn and ornamented with silver" (Juvok, Paulina). Just like and Illustrated Shofar, the illustrative detail adds beauty to the Shofar, but it also details significant aspects of Judaism. Shofars, in and of themselves are unique and hold many purposes with various meaning to them.
To an outsider the Shofar may seem to be just another instrument used for musical purposes. However, to a Jewish person, the Shofar is a symbol. A symbol of deep spiritual repentance. The Shofar connections people and touches the hearts of many just by its sound.
Want to Hear it, then check this out!
References 
Chein, Rochel. "Can a Woman Blow the Shofar?" Judaism, 20 Aug. 2008, https://www.chabad.org/library/article_cdo/aid/718280/jewish/Can-a-woman-blow-the-shofar.htm.
Jukov, Paulina. "4 Shofar Types: How to Choose the Perfect Shofar?" Israel National News, 26 June 2017, http://www.israelnationalnews.com/News/News.aspx/231762.
Moon, Deborah. "The Power of the Shofar Awakens Us." Oregon Jewish Life, 28 Aug. 2018, https://orjewishlife.com/the-power-of-the-shofar-awakens-us/.
"Shofar Guide." Judaica Store, https://www.ajudaica.com/jewish-guides/shofar.
Steph, and Jimmy Chi. "Extra Large Yemenite Kudu Shofar – Half Polished Half Natural." Judaica Store, 27 Sept. 2017, https://www.ajudaica.com/Extra-Large-Yemenite-Kudu-Shofar-Half-Polished-Half-Natural/item3131. 
---