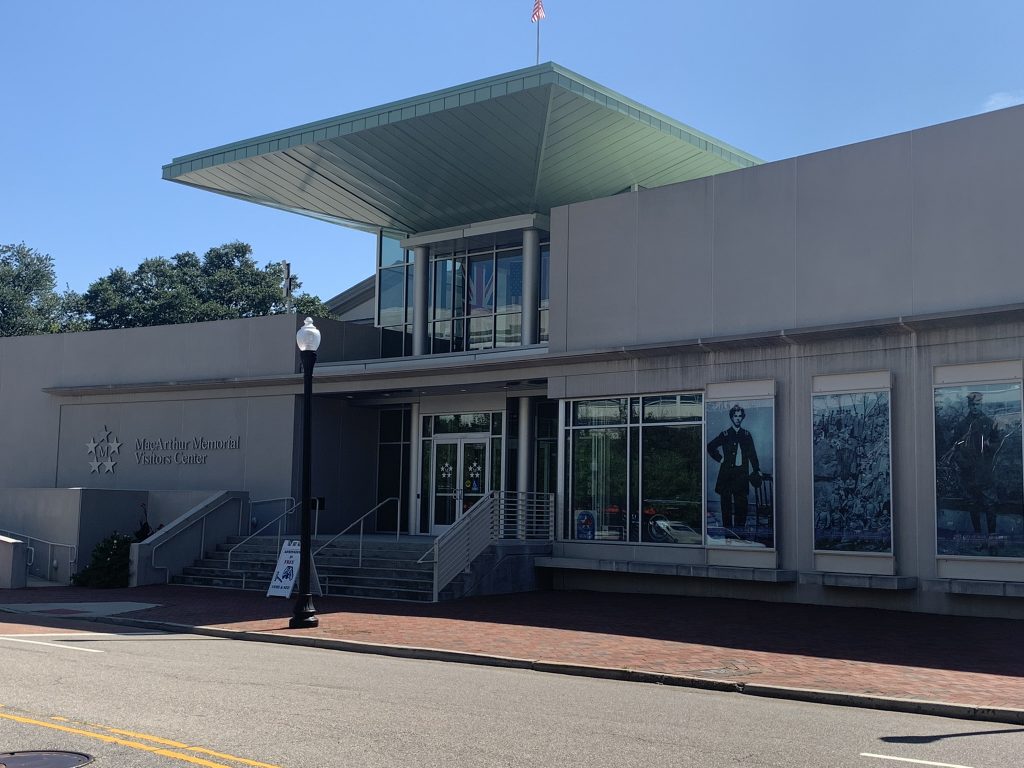 "He hated MacArthur's guts, but he knew we could preserve it."
-James Zobel, MacArthur Memorial archivist
Googling special and archival libraries in Hampton Roads, there's a surprising number of options.
The rest of Virginia makes sense – near Washington D.C., Langley, Colonial Williamsburg. But even in Hampton Roads, I have a choice. First I find parts of libraries I've already visited: the Sargeant Memorial Collection at Slover Library and the Special Collections & University Archives at ODU. But there are others. The Mariners' Museum and Park Library, the Ohef Sholom Temple Library, the George Foster Peabody Special Collection at Hampton University's William R. and Norma B. Harvey Library. Even the LGBT Life Center in Norfolk has its own little library.
In the end, I choose the MacArthur Memorial.
Douglas MacArthur was a general in the United States Army, as well as a field marshal in the Philippine Army. He started the Rainbow Division during World War I and was heavily involved in the Pacific during World War II. Upon his death, the City of Norfolk received his "trophies, medals, prizes, decorations, uniforms, flags, swords, battle souvenirs, personal papers, documents, records and other personal memorabilia" (The MacArthur Memorial, n.d.a). This included his library of 5,000 volumes, which has been supplemented by gifts from contemporaries and their descendants along with deliberate relevant purchases, now containing "some 2 million documents, 86,000 photographs, 130 photograph albums, and 111 motion picture films in addition to sound recordings, newspapers, rare books, scrapbooks, and microfilms" (The MacArthur Memorial, n.d.a).
By now accustomed to this routine, I start by heading over to the MacArthur Memorial website for the Library and Archives (The MacArthur Memorial, n.d.b).
It's a series of smaller pages on a larger site, each sharing some interesting facts and information. With all its simplicity, it's easy to navigate and fairly welcoming. The images have alt text! And it's good!
The website allows one to view information about donations, make donations, mail order from the gift shop, and subscribe to the museum's e-newsletter. The digital archives are smaller than one might expect, once one knows the true size of the collection; the list of record groups is extensive and descriptive, an effective preview to help people find what they're looking for before they come in. This list of record groups serves as the library's offsite catalog.
The library clearly serves people with an interest in World War II who are doing research. It's not especially meant for sightseeing, more for people who have a purpose, although I'm sure sightseeing happens on occasion.
There is no particular information about the staff, and the only methods of interaction are the same as for the whole memorial: a phone number, a fax number, an address, a general contact form, and a tour-seeking contact form.
I've learned all I can from the website. It's time to journey there in person.
---
I'm already in the area to revisit Slover, so I know where to park – a garage that will cost me $2 for the hour or so I spend. I always think how annoying it would be to navigate this garage using a wheelchair, but I wouldn't use the word difficult. All the way to the museum there are ramps and street-crossing buttons with accessibility features.
I take a circuitous route into the library, approaching the visitors center and walking around a bit before seeking the help desk. There are several cool sights to see, and I want to get the measure of this man before I go digging further into his past.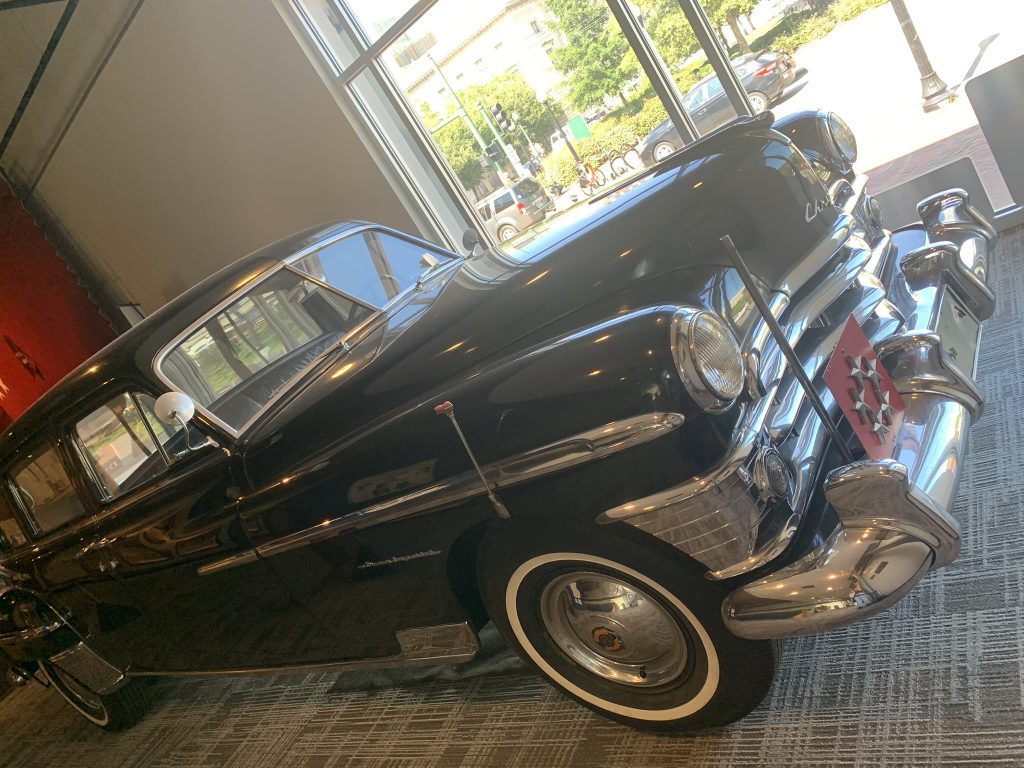 I see no patrons in the memorial proper and approach the help desk for assistance. The person there calls up the archivist and checks whether he has the time to see me. I am a bit nervous; should I have made an appointment? But he agrees! I am directed to a completely separate building out the back of the visitors center, past the memorial.
The building is small and architecturally pretty, pillars calling to mind designs of the past. I go in, passing an Asian man who I will later learn is here doing research, and meet up with the archivist, who is white. That's about the extent I can talk about patron/staff diversity – there really is almost nobody here.
The archivist's name is James Zobel, and he will turn out to be immensely helpful, telling me everything I could ever want to know about the library and archives.
We start in a small room surrounded by books. This is promising. I'm told these are mostly from MacArthur's original private collection, with some topical volumes purchased later. Mr. Zobel explains that the original collection of 5,000 books and 5,000 papers has expanded to more than 40,000. They are arranged into 174 record groups, which are mostly collections of papers.
Finding aids were created for each record group, both print and electronic. The archive has kept the original cards, which were made before Library of Congress subject headings from what the archivist calls "each person's own mind." They use MARC (machine-readable cataloging) and a system called Rediscovery out of Charlottesville, the same the National Park Service uses.
They get about 4,000 researchers a year, largely through email and postal requests. Things are digitized as people ask for it, largely onto microfilm, which is known to last over 100 years. (They are currently digitizing 30,000 feet of film.) There is an extra copy of it all at the Library of Virginia "in case this place ever burns down." The building is kept at a constant temperature and humidity, with acid-free folders and enclosures for the collection items.
He tells me they're getting a lot of donations lately, sadly, as people from the era pass away. Most of their donations have to do with the Philippines, Korea, and Japan. He tells me of one man who was placed in a Japanese internment camp and drew the horrors he saw there, then donated his sketchbook to his collection. "He hated MacArthur's guts," I am told. "But he knew we could preserve it."
He takes me into a smaller room containing more archives, these ones on the same wheeled shelves I saw at Perry Library. Accessibility is definitely a question in this small space. Some people would absolutely have to rely on staff assistance to accomplish certain goals.
There is a change in atmosphere here compared to my previous two library visits, the public and the academic; even Perry, with higher floors aimed at serious scholars, was more intended for public use than this. There is no signage or direction or clear welcome. It's just these two rooms, organized by record group and cataloged multiple ways, understandably walled behind staff assistance. This is intended to serve researchers first and foremost. There must be a microfilm viewer somewhere, but most of it appears to be fairly low-tech.
The special mission of this library is apparent everywhere. Rubin and Rubin describe special libraries as tending to have "a relatively small number of users and restricted access to relatively small but highly specialized collections" (Rubin & Rubin, 2020, p. 198), which fits MacArthur precisely. It sees much less foot traffic than other libraries in the area of other types, and its collection is incredibly specialized.
I was surprised by the sheer volume of information – the collection may be 'small' by some standards, but by mine it's incredible. I felt impressed, if a little uncomfortable sometimes as certain events were mentioned, such as the bombing of Hiroshima and Nagasaki, which I feel could be approached more critically by the exhibits. But the library itself seems to have the breadth and depth to cover this from multiple perspectives.
I would love to know more about specific items in the collection – I didn't have much time to look at individual pieces. For example, I would love to see the inside of that man's sketchbook. It's sad that there isn't a better collection nearby to donate such an item to, rather than a white American general who was 'in charge' of Japan for a time, but at least it's being preserved somewhere.
I hope the artist would be happy to know that care is being taken with it, and that the drawings are still seen. Maybe one day he will have an exhibit of his own.
References
The MacArthur Memorial. (n.d.). About. https://www.macarthurmemorial.org/174/About
The MacArthur Memorial. (n.d.). Library & archives. https://www.macarthurmemorial.org/31/Library-Archives
Rubin, R. E., & Rubin, R. G. (2020). Foundations of library and information science (5th ed.). ALA Neal-Schuman.