COVID-19:
The current COVID-19 pandemic is an evolving and unpredictable situation that is limiting travel worldwide.  Part of our planning for the 2022 Philippines programs includes adhering to ever changing requirements set by participating academic institutions and governmental agencies of the US and the Republic of the Philippines as these respond to the pandemic.  The safety of students and staff is paramount in this process.  We are exploring alternatives to field research should it be determined that international travel will not be possible.
______________
Overview
The goal of the Philippines PIRE project is to compare the genomic composition of fish populations collected by the USS Albatross from 1907 to 1910 to with that of their corresponding contemporary populations to address the project's central questions.  Read our Major Goals page for the details.  Motivated undergraduate students can contribute directly to the research effort of the Philippines PIRE project by participating in the project's international Research Experience for Undergraduates (REU) program.  During REU summer research experience, selected REU participants will learn advanced genomic methodology, and will receive theoretical and hands-on training in the field and the lab.  The Philippines provides unique opportunities for U.S. students through both the historical ties with the U.S., and because of its extreme concentration of marine biodiversity.  Undergraduate students selected from Old Dominion University, Texas A&M University – Corpus Christi, Rutgers University, and Arizona State University will participate in the program alongside U.S. and Filipino students, early career professionals, and collaborating principal investigators to investigate the impact of humans on the biodiversity of marine fishes in the region over the last century.  We regret that students from other institutions are not able to participate.
Objectives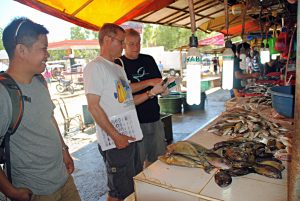 Introduce students to an integrated approach to research that incorporates the biological sciences, molecular ecology, bioinformatics, and marine biodiversity conservation
Introduce students to the use of molecular tools to investigate changes in biodiversity over the last century
Provide students an international research opportunity that promotes long-term collaboration, for research and education, with faculty, early career scientists and students
Provide students with academic, professional, and personal skills to pursue careers in STEM
Expose students to concepts of international collaboration and ethical conduct of research
Students will participate in a 12 day workshop that introduces computing techniques for analyzing genomic data
Students will have the opportunity to present their research at scientific conferences
Certify students as IUCN regional assessors
Students will participate in all aspects of the research effort to include:

Pre departure training and orientation
Research planning meetings
Fish market visits, field observation, and collection of marine fishes
Evaluating fish species for risk of local extinction by IUCN standards
Program Information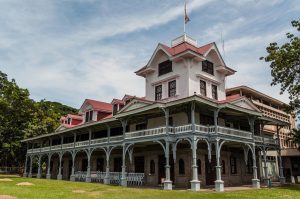 The exact dates are for the program are published on the application page.
The program lasts nine weeks, between May and August during the summer semester of all participating universities.  Participants depart the US on the Friday prior to the first week.  Participants depart the Philippines on the Saturday at the end of the ninth.  Students accepted to this program will not be able to participate in late May or Summer semester courses.
Applications are accepted from 15 August through January.  Deadlines are published on the application page.
Student benefits:
This is 8 week paid international research experience includes the following:
Weekly $500 stipend
Generous meal per diem
International and domestic travel from your home airport to Dumaguete, Negros Oriental, Philippines
Travel to research sites
Visas
Accommodations
Travel health insurance.  This health insurance includes:

Routine, urgent and emergency care with no deductible
Security evacuation
Travel and accommodation expenses for parents or spouses in the event of student hospitalization
Living & Research Environment
Access to field sites in the epicenter of marine biodiversity
Immersion in a collaborative, multinational academic environment at Silliman University
Eligibility
Must be a citizen or permanent resident of the United States or its possessions.
Must be a registered student at Arizona State University, Old Dominion University, Rutgers University, or Texas A&M University – Corpus Christi.  We regret that we cannot accept students from other institutions.  We highly encourage these students to apply to our partner program Philippines International Research Experience for Students.
Must be in good academic standing.  Students on academic probation, warning or any other form of institutional sanction are not able to participate.
Must be a full-time rising sophomore, rising junior, or rising senior majoring in biological sciences (marine biology, genetics, or related field desirable). May 2020 graduates are not eligible to apply.  High school graduates that are accepted to the parent institution are not eligible to apply.
Must have at least 2 semesters at an accredited institution prior to departing for the Philippines.
Swimming proficiency preferred, snorkeling experience desirable.  Not being able to swim will not disqualify an applicant, however applicants should take steps to increase their proficiency in the water.
Underrepresented minority students are particularly encouraged to apply.
A completed application received by the program deadline published on the application page.
Questions?
Please write to Ivan R. Lopez with any questions:

Partnerships for International Research and Education (PIRE) is an NSF-wide program that supports international activities across all NSF supported disciplines. The primary goal of PIRE is to support high quality projects in which advances in research and education could not occur without international collaboration. PIRE promotes excellence in science and engineering through international collaboration and facilitates development of a diverse, globally-engaged, U.S. science and engineering workforce.
Funding for this REU is provide by the National Science Foundation, Award #1743711. The NSF contact for this program is Cassandra Dudka. NSF does not handle REU applications; please contact each REU site directly for application information.  NSF funds many REU programs.  For other opportunities go here: