Choose a page or diagram from a user manual you believe to be well-executed, and analyze it according to the readings on manuals: How does this page or diagram demonstrate that the author(s) of the manual took their audience's expectations, abilities, and needs into consideration?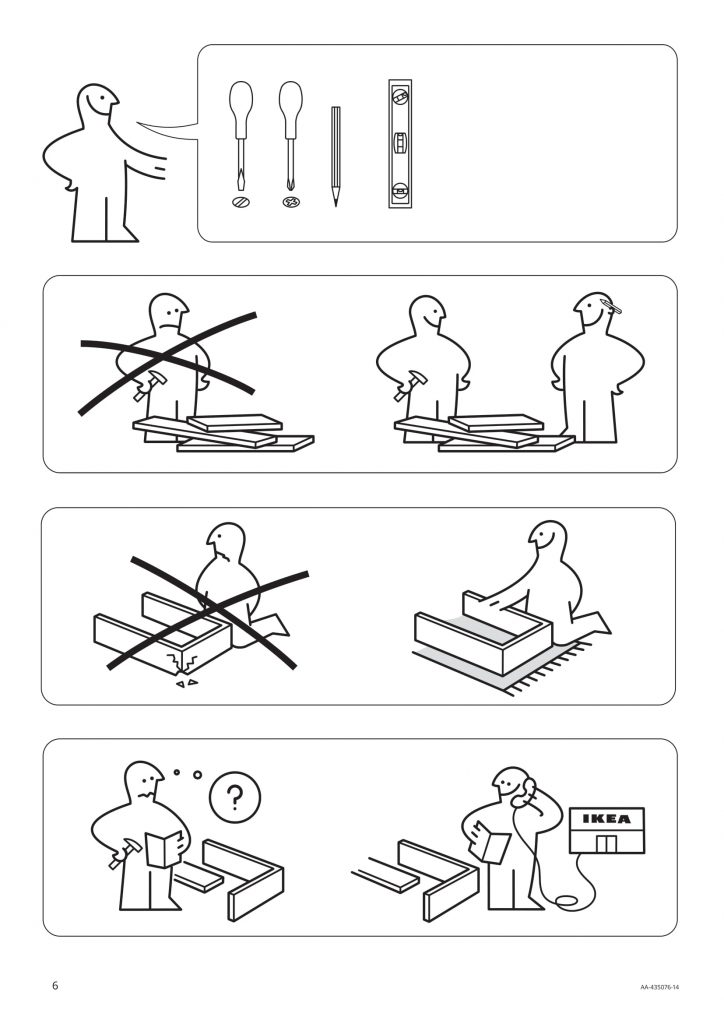 Pages 6-7 of the assembly instructions for Ikea's HEMNES 90×197 black-brown/light brown bookcase.
Expectations
The user manual provides clear representations of what a user can expect from the assembly process. The user can see exactly what type of tools they should have on hand, what they should do or avoid during the assembly process, and what/how many assembly parts are included in their purchase. A user can clearly understand that some additional materials are required of them, and they should not assemble the piece alone. It is also clear that they should assemble their purchase on a carpet to avoid damage, call IKEA if they have any confusion about the assembly instructions, and avoid climbing or placing heavy loads on the piece.
Abilities
As well, the instructions take into consideration the skill and familiarity level of the users. Many individuals who buy Ikea furniture are novice furniture builders, and so they would not be familiar with technical names and vague visuals of different furniture parts. The manual provides extremely detailed and large images of all the material parts, which visually aids users to identify each assembly piece accurately, and users could even hold the pieces beside the pictures for even stronger confirmation. The manual also states exactly how many of each piece there should be, so users can confirm that their purchase is not missing any vital parts and can keep track of them throughout the assembly process.
Needs
The user manual also attempts to make itself accessible to all audiences by solely relying on graphics to describe how users should prepare to build their bookcase. By not using any written language at all, the author/s of the manual do not have to make multiple sets of manuals in different languages. The images, specifically the representations of people, are also socially and culturally neutral, meaning anyone from any background should be able to see themselves in them and feel that they are able to complete these instructions. This makes the assembly process less intimidating and helps to make users less anxious about the assembly process. The absence of written instructions also compliments the environment in which the instructions will be read. Heavily visual instructions are easier to skim, which would be beneficial if a user is actively assembly parts while reading the manual.