About
The University-Community Partnerships to Build Community Coastal Resilience focuses on real world projects to build resilience in coastal communities by connecting community organizations with university resources through service learning.
The program's goal is to build capacity for collaborative community-university projects that will enhance resilience in coastal communities.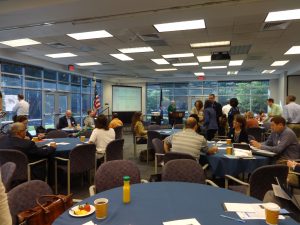 Key Definitions
Resilient communities:  Communities that are able to maintain services and livelihoods after disruptions, or rapidly recover to a new and better condition.
Service learning: Efforts and activities that connect rigorous academic curriculum with meaningful and tangible community work to strengthen the university and the communities it serves for a sustainable future.
Who benefits?
Community:
Helps organizations meet diverse needs
Capacity building by utilizing multiple sources of knowledge
Involvement in preparing the upcoming generation of civic engaged professionals
Faculty:
Opens doors to diverse research opportunities
Explore community perspectives and issues
Broaden teaching approach and strategies
Students:
Integrated and meaningful experiential learning
Collaboration with people and organizations to address real community issues
Personal, professional, and intellectual growth