Past Events
Summer 2017 Networking Event
The University-Community Partnerships to Build Community Coastal Resilience Program hosted a Networking Event on Friday, June 2, 2017 from 9 – 11am.
Spring 2016 Kick-off Workshop
The regional 'Service Learning for Community Resilience' workshop was funded by the National Sea Grant College Program through its NOAA Sea Grant Conferences and Workshops 2015 Special Projects Competition. On Friday, May 20, 2016, the team brought together university partners with community organizations and leaders from urban neighborhoods and communities to foster relationships, build partnerships, and develop climate adaptation and coastal resilience service-learning projects.
We had the kick- off workshop at the ODU Peninsula Center in Hampton. Over 80 people registered for the event including faculty, students and organizations from all over Hampton Roads.
Agenda
Service Learning Workshop Agenda
Workshop Presentations
Photos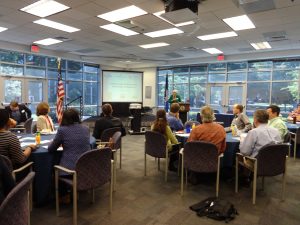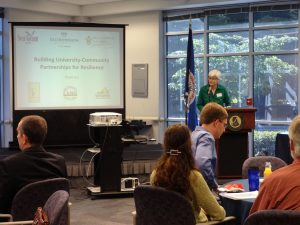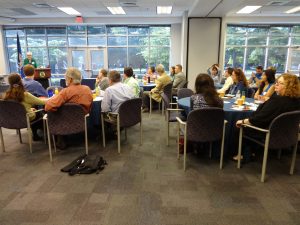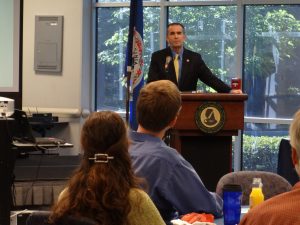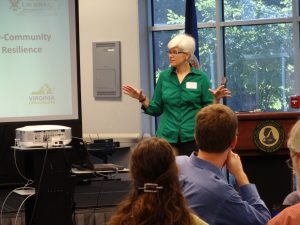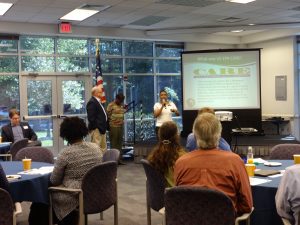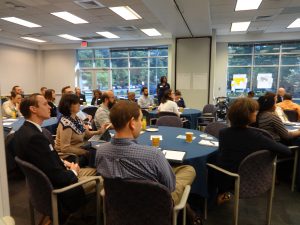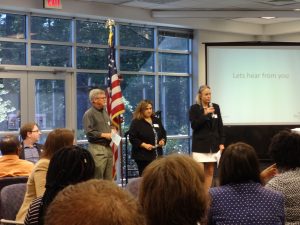 List of Participants
Michael Allen, Old Dominion University
Mason Andrews, Hampton University
Seth Antozzi, Virginia Wesleyan College
Gary Beck, Old Dominion University
Brigid Belko, Averett University
Scott Bellows, Virginia Space Grant Consortium
Tuere Brown, Virginia Organizing
Russell Burke, Christopher Newport University
Justin Burns, City of Norfolk
Yolima Carr, The Hermitage Museum and Gardens
Reggie Carter, Boys & Girls Clubs of Southeast Virginia
Chris Carter, Virginia Space Grant Consortium
Joe Cooke, Sierra Club
Cliff Copley, Tidewater Community College
Michelle Covi, ODU/Virginia Sea Grant Consortium
Erica Deale, The Mariners' Museum
Candy Dolcy, Norfolk State University
Abby Dotson, Nauticus
Emily Eddins, Old Dominion University
Renee Figurelle, Foodbank of Southeastern Virginia
Anthony Fontes, TCC Workforce Solutions
Jay Ford, Virginia Eastern Shorekeeper
William Gibson, Virginia Wesleyan College
Kaitlin Giles, Old Dominion University
Lynanne Gornto, The Planning Council
Angela Harris, Southeast CARE Coalition
Samantha Henderson, Fort Monroe Authority
Susie Hill, Nauticus
Roy Hoagland, Virginia Coastal Policy Center
Erica Holloman, Southeast CARE Coalition
Larry Hultgren, Virginia Wesleyan College
Davig Imburgia, City of Hampton
Anna Jeng, Old Dominion University
Nicole Kiger, Old Dominion University
Ryan Kmetz, Christopher Newport University
Christopher Loy, Christopher Newport University
Jonathan Lubrano, Virginia Coastal Policy Center
Elizabeth Malcolm, Virginia Wesleyan College
Owen Miller, City of Newport News
Curtis Moody, Moody Street in Barnesville
E. Nathan, Villa Heights Community
Claire Neubert, Hampton Waterways Restoration Project
Gail Nicula, Old Dominion University
Pam Northam, Lynnhaven River NOW
Chris Patrick, Virginia Sea Grant
Meg Pittenger, City of Portsmouth
Jennifer Privette, City of Newport News
Jaci Randal, Friends of Norfolk's Environment
Pragati Rawat, Old Dominion University
Joe Reiger, Elizabeth River Project
Veronica Richardson, A Renewed Mind
Michael Rogers, Richard Bland College of William and Mary
Rogard Ross, Friends of Indian River
PJ Scully, City of Virginia Beach Department of Planning and Community
Michael Seek, ODU Engineering Technology
Deanne Shuman, Old Dominion University
Angela Shuttlesworth, Norfolk State University
Sally Sledge, Norfolk State University
Burton St. Joh, Old Dominion University
Teresa Stanley, Virginia Organizing
Skip Stiles, Wetlands Watch
Mujde Unal, Old Dominion University
Lindsay Usher, Old Dominion University
Chad Wiener, Department of Philosophy and Religious Studies
Liyun Wu, Norfolk State University
Wie Yusuf, Old Dominion University