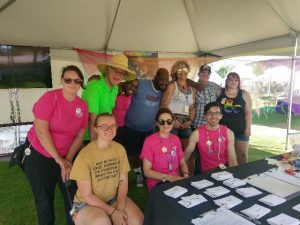 On June 30, 2018 the Tidewater Queer History Project set up its first pop-up interview booth at Hampton Roads PrideFest. The team spent hours in the scorching heat helping people tell their own stories and collecting nearly two dozen oral histories from local residents. The goal of the event was to give ordinary LGBTQ people the opportunity to write their own histories by interviewing one another. It has always been TQHP's philosophy that everyday people are as important in queer history as those whose names and contributions have been widely publicized. We are interested in the ways that people live theirlives day to day, and we want to preserve that information.
Amid the thump of the music and buzzing of the large crowd, interviews were recorded at PrideFest and the stories of queer people's lives and experiences right here in Hampton Roads will be archived. As evidenced by the busyness of the interview booth, people were eager to share tales about everything from the AIDS crisis, to serving on the police force as an out lesbian, to first crushes. The success of the event has inspired us to do more pop-ups in the future, capturing people's stories in short, on the fly interviews.
The Virginian Pilot coverage of TQHP's work at PrideFest:
https://pilotonline.com/news/local/article_4f995352-7ca1-11e8-9ed0-3f85b76ea472.amp.html?__twitter_impression=true
Know of an event or group that would benefit from a TQHP pop up? Email us at tidewaterqueerhistoryproject@gmail.com.