The Space and Physical Access

The North Suffolk Library is a large single story brick building located in a residential community. It also houses some local government offices: Treasurer's Office and Commissioner of the Revenue. Outside there are two reserved parking spaces for library curbside pickup, two book collection boxes for returns, and a newspaper dispenser that has been converted into a little free library. There are outdoor benches, sidewalks, a small bike rack, and city buses frequently are stopped at the doors or parked in the back of the parking lot. Wi-Fi is accessible in the parking lot and lobby before entering the technical library space.
Inside there are a number of public computers. Automatic sliding doorways are wide enough to be accessed by patrons of diverse abilities. The children's room is also accommodating to younger patrons by having lower bookshelves. The dedicated "quiet study space" has five individual desks with chairs, a four person table, and two additional padded chairs with armrests. That space is helpful, but there is not an actual room available for reservation. What is available to reserve is a temporary partition wall to section off part of the public lobby that is shared with the Treasurer's and Commissioner's offices. It can still be very loud there, which is not conducive to productivity. This is unfortunate for those attempting to use the library to conduct interviews or meetings (virtually or in person).
Services and Intellectual Access
Suffolk Public Library's YouTube page has a variety of content for users of various ages. Some videos include: "storytimes" targeted at children, art projects for teens, adult job seeker supports, and related to family events like iconicon or food-fun. The library is organized by the Dewey Decimal System, and the library catalog is accessible online and on many self-serve computers throughout the building. Children are clearly welcome in the space, as there is a whole dedicated children's room with a large portion dedicated to toys and space for play. Surprisingly, the teen space is rather limited, with only a few rows of literature as a subsection within the adult room. These rows are right next to the bank of public computers, and there are no comfy lounge or reading areas. This is surprising, because, "[i]ndividuals between ages 14 and 24 make up 25% of all public library users" (Rubin & Rubin, 2020, p. 143). Suffolk Public Library has great programming for teens so it seems incongruent to not have a space for them in the actual library.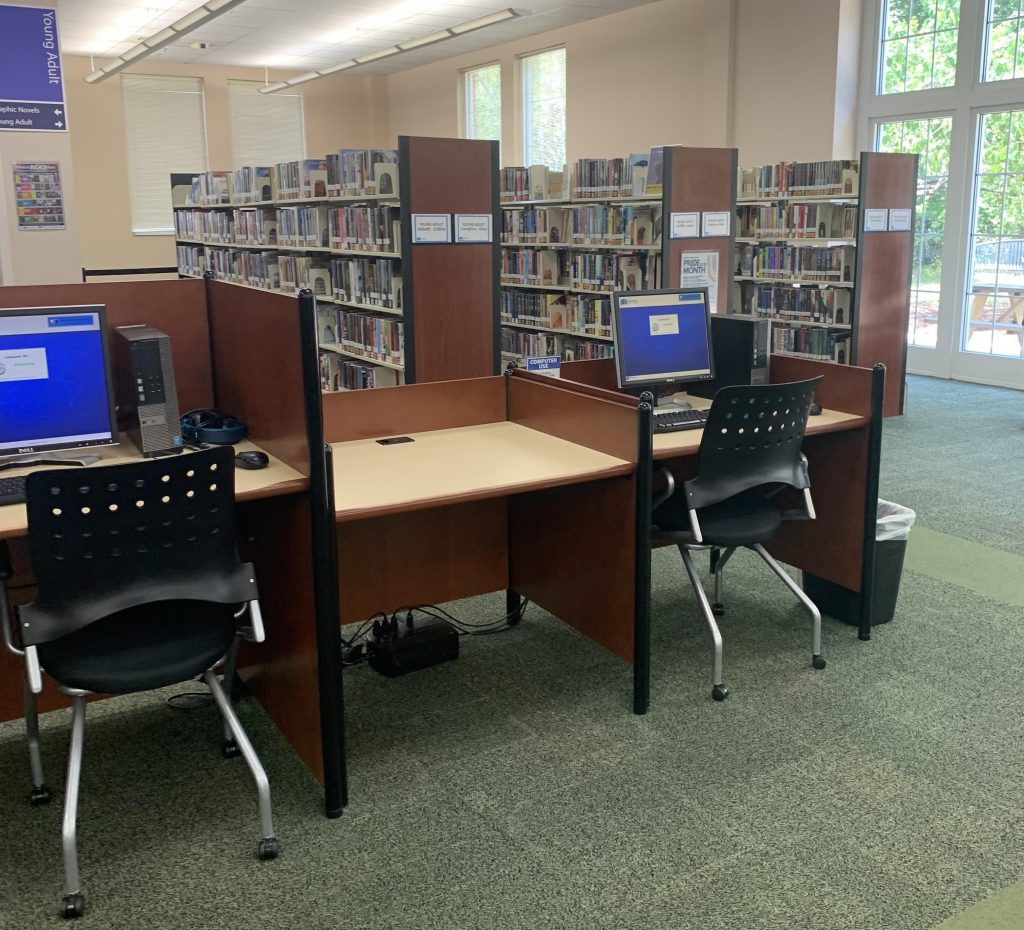 People (Patrons and Staff)
The library caters to the public, children, and English Language Learners as is evident by the flyers advertising events and classes available for patrons. These resources indicate this library is, "a community hub and center for lifelong learning as well as a place for … language building" (Rubin & Rubin, 2020, p. 111). I saw young children attending programming, an elderly couple reading, young adults working on computers, and a caregiver instructing a child working on homework (Rubin & Rubin, 2020, p. 133). The staff composition also reflects a diversity: there are men and women, young and old, as well as a variety of ethnic groups represented. I saw staff help patrons find materials, check out, and casually conversing.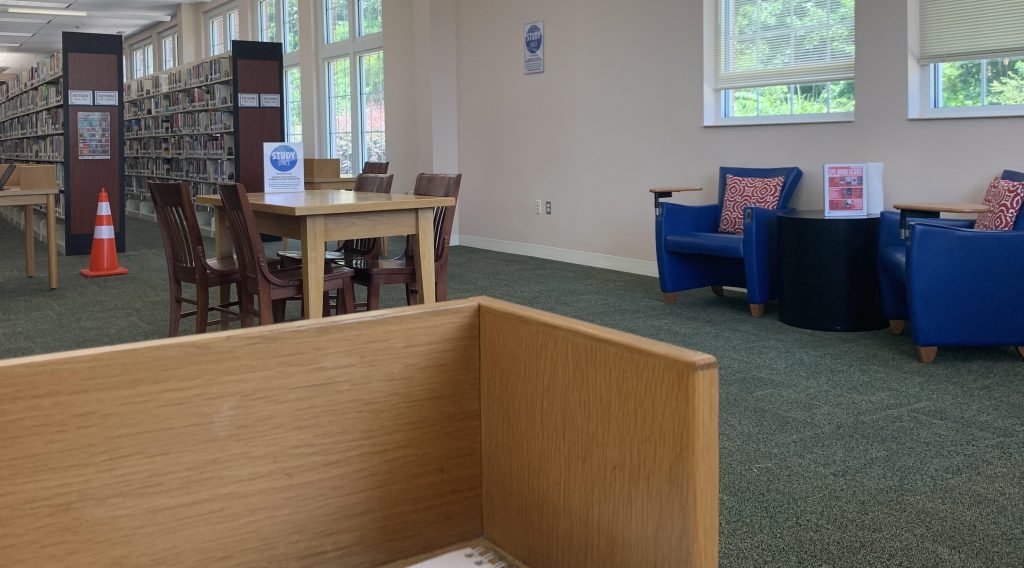 Digital Access
The Suffolk Public Library website (https://www.suffolkpubliclibrary.com/) is fairly easy to navigate, though could use some refinement for improved user experience. For instance, if you want to request and interlibrary loan or suggest a title be added to the collection, you cannot do so within your account where you search and reserve holdings within the collection, you have to access a form on their contact us page. On that page you may also submit a form leaving a comment or asking a general question, ask about Suffolk local history, request genealogy help, request outreach services, or schedule a meeting with a librarian (discovery appointment). Under the "Library Location & Hours" tab their phone contact is listed (757)514-7150. They also have active social media accounts on YouTube, Instagram, Twitter, LinkedIn, and Facebook, all of which are linked on the righthand side within the website's footer. Online services include access to eBooks, audiobooks, eMagazines, music, and movies/TV via Hoopla and Libby. Regarding accessibility design they specify that they, "work to comply with Section 508 as well as WCAG 2.0 A and AA referring to website accessibility standards" (Suffolk Public Library, 2022, para. 2).
Collections
Book displays, "support[ing] social justice and protect[ing] human rights", also suggest Equity, Diversity, and Inclusion (EDI) is present (Rubin & Rubin, 2020, p. 115). The children's display section depicted characters representative of a broad variety of ethnicities and ability. In the adult displays there were both a pride display and a military appreciation curation.
As far as technology, there are lots of computers available for use within the library and some wi-fi to go kits. Some additional special collections they advertise on the website include: Adventure2Go Kits, BookClub2Go Kits, Cake Pan Collection, Crocheting Kit, Knitting Kit, Letter Kits, Litter Cleanup Kits, and World Languages Collections.
Other
There are some things I am left wondering about after this visit. I wish I knew more about the staff, because the website doesn't have any staff information, nor do staff wear name tags. For instance, I wonder what their specific titles are or wish that some duties related to their positions were available online. I am also curious, given the success they seem to have engaging patrons, if they are doing anything to promote, "unity by constructively involving people in democratic discourse" (Kranich, 2017, as cited in Rubin & Rubin, 2020, p. 120)? That is, are they facilitating strong democracy, or merely providing information (Kranich, 2017, as cited in Rubin & Rubin, 2020, p. 121)?
References
Rubin, R. E., & Rubin, R. G. (2020). Foundations of library and information science (5th ed.). ALA Neal-Schuman
Suffolk Public Library, (2022). Website Accessibility. Retrieved on July 5, 2022 from https://www.suffolkpubliclibrary.com/accessibility