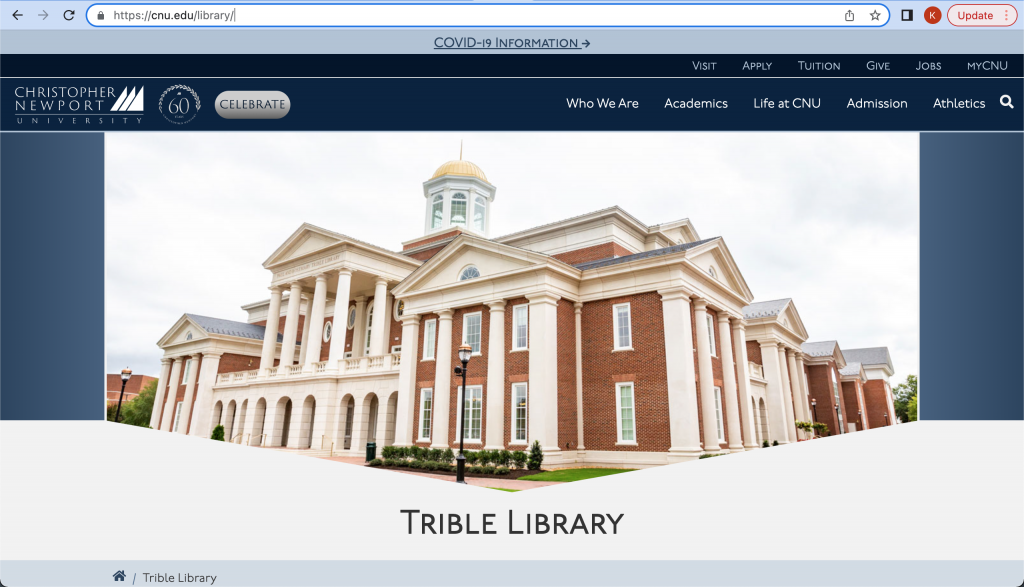 The Space and Physical Access
Trible Library is located almost at the heart of CNU's campus in between the Christopher Newport Hall/Admissions Welcome Center and the Pope Chapel. There is a convenient visitor parking lot behind the library building, but its utilization requires prior registration with Parking Services or University Police. The building itself is rather grandiose and comprised of several stories. It is built of brick with many stately white columns, stone archways, a large balcony, and a cupola seemingly a crown jewel on top. The interior also maintains an ornate, yet open feel. The many architectural renovations that Trible library underwent as part of an expansion in 2019, definitely align with Rubin and Rubin's (2020) claim that 21st century academic libraries have, "been reconceptualized… [to include] new architectural designs promoting more open spaces" (p. 121). There are also many meeting rooms, with varying capacities of 2-8 people, available for students and faculty to reserve through their Virtual Event Management System. These also are a prime example of how the library has responded to a pedagogical shift, placing a, "greater emphasis on active learning and cooperative or collaborative learning in groups" (Rubin & Rubin, 2020, p. 121).
Services and Intellectual Access
Students are clearly welcome in this space, as every aspect of the building, materials, and hours of operation are designed to service them. Non-students that are Virginia residents age 18+ may borrow materials, up to five items at a time for an annual fee of $25. The annual fee is waived for alumni. The Library is categorized by the Library of Congress classification System. Their database is available within the building via guest computer access for non-students. Current student's, faculty, and staff may also log into the system to access the database off-campus. I found the services offered to be completely acceptable for the students they are designed for.
People (Patrons and Staff)
There are 14 staff listed on the website from the home page, all with unique titles including: Evening Circulation Supervisor, Digital Services Librarian, Head of Instruction, Interlibrary Loan Librarian, Collection Management Librarian, and Cataloging Assistant. A different page has a staff directory that lists 16 staff in total, and gives even more information about how each staff member can assist as well as the content areas they act as liaisons for. It is interesting to note however, that many of the photo's for staff are just a holder image of the library itself rather than depictions of staff, which takes away from their relate-ability.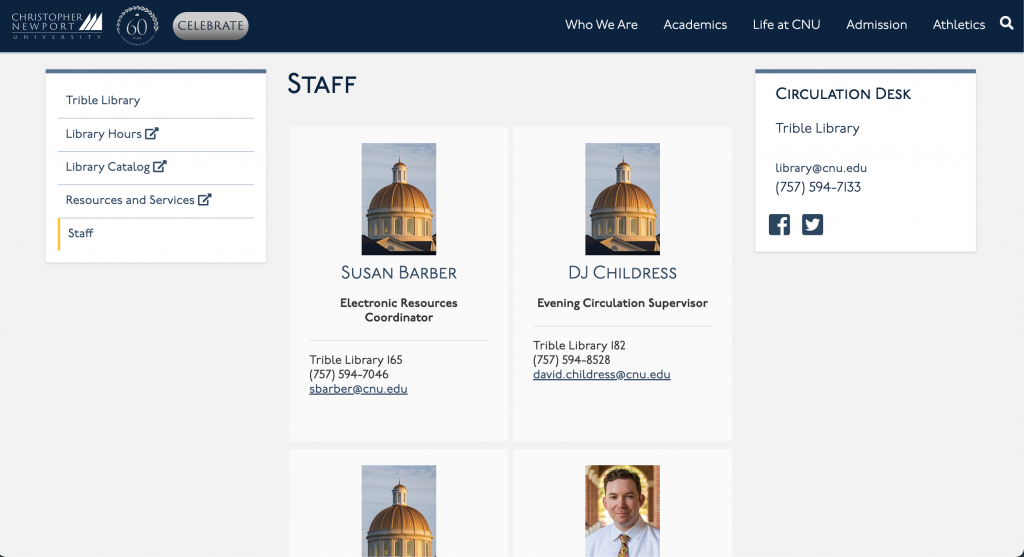 Given the grand stature of the building and the fact there is a fee or annual cost for non-students, I think those from socio-economically depressed homes would feel uncomfortable in the Trible library. I also believe that children would feel unwelcome in this space as it does not cater to their needs, and has an almost austere air.
Digital Access
The website (https://cnu.edu/library/) has the library's catalog easily available from the main page for public access and is very user friendly. There were options to make an appointment with a librarian, chat, see FAQ's, email, text, or call. There were different phone numbers for reference, circulation, and media departments. All of the social media accounts linked on the library home page's footer seemed to be overarching or University-wide rather than specific to the library.
Collections
There are numerous Open Educational Resources (OERs) provided through fifteen CNU subscriptions as listed on their ebooks homepage. Which is important considering, "[t]he cost of and access to course materials has emerged as a student success issue" (Salem, 2017, as cited in Rubin & Rubin, 2020, p.184). This also ties into the university's participation in the Virginia Tidewater Consortium (VTC), because it allows for InterLibrary Lending between participating institutions to support VTC's goal to, "help[] develop and share ideas, information, programs and resources to achieve its goals, which include promoting cooperation and collaboration among its member institutions to serve the people of the Tidewater region"(Virginia Tidewater Consortium for Higher Education, 2022, para. 2). Which in turn supports Rubin and Rubin's (2020) conclusion that academic libraries need to foster, "[g]reater collaboration with external agencies and institutions to improve productivity and reduce redundancy of services and collections" (p. 196).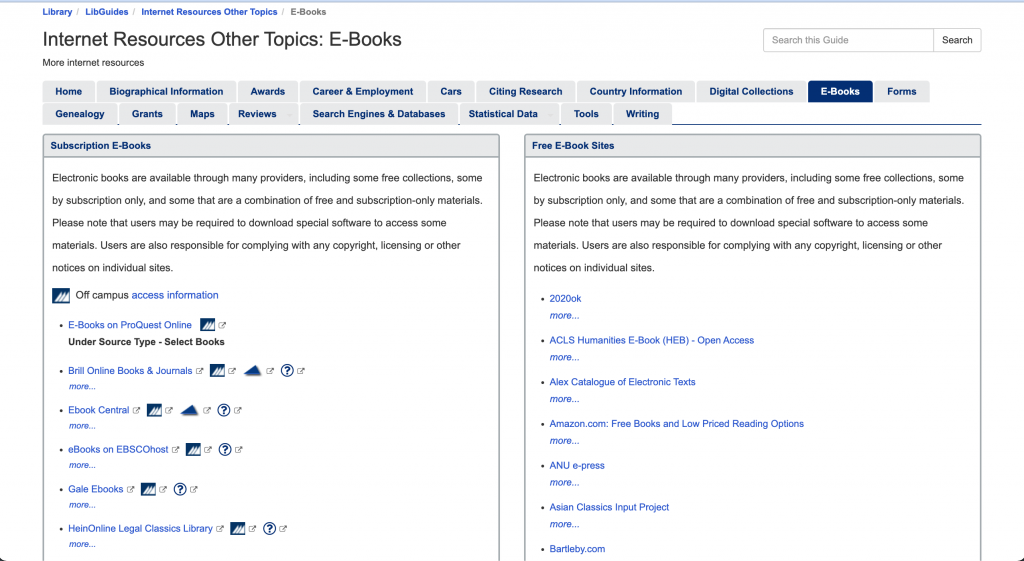 Their Special Collections and University Archives listed some unique collections, though they might require advanced notice to the library to access. Specifically of interest were: the Virginia Author Collection which features books of Virginian authors with author autographs on their title pages, several curated sheet music collections, and a NASA engineer's donated collection of material regarding his work at NASA. Uniquely, the library also features some galleries like, the Barclay Sheaks Gallery on the second floor featuring the artist's original acrylic paintings, and the Griffin Chiles Native American Statues Gallery with many of the artist's bronze statue pieces on the first floor.
Other
The Trible Library clearly states their mission, "We help students develop research skills and support the scholarly and personal growth essential to the study of the liberal arts and sciences. We combine the best of a traditional library with modern technology to create an interactive learning experience for the 21st century" (CNU, 2022a, para. 2). Oher and Pitts (2021) assert that academic libraries must leverage their funds to create a collection that, "unites the purchasing power of the library's collections budget with scholarly communication advocacy, institutional repositories, and digital initiatives" (para. 8). Given their mission to facilitate scholarly learning and the current trend of scholarly journal subscription packages increasing in price, I would like to know more about Trible Library's collection policy and initiatives. How do they determine what percentage of the budget is allocated to physical holdings versus digital content and subscriptions?
References
Christopher Newport University. (2022a). Trible Library. Retrieved July 10, 2022, from https://cnu.edu/library/
Christopher Newport University. (2022b). Staff. [Screenshot by Kiley Miller]. Retrieved July 10, 2022, from https://cnu.edu/library/
Christopher Newport University. (June 23, 2022c). Internet Resources Other Topics: E-Books. [Screenshot by Kiley Miller]. Retrieved July 10, 2022, from https://cnu.libguides.com/internetother/ebooksites
Ohler, L. A., & Pitts, J. (2021). From peril to promise: The academic library post–COVID-19. College & Research Libraries News, 82(1), 41. https://doi.org/10.5860/crln.82.1.41
Rubin, R. E., & Rubin, R. G. (2020). Foundations of library and information science (5th ed.). ALA Neal-Schuman.
Virginia Tidewater Consortium for Higher Education. (2022). Regional cooperation in higher education. Retrieved July 9, 2022, from https://vtc.odu.edu/