The Space and Physical Access
John Yeates Middle School is an older single story brick building located on a main road in a residential area, and has a small post office neighboring it to the left. A recent study done to create a facility master plan for Suffolk Public Schools rated the building poorly and called for major renovations or replacement of the structure (LaRoue, 2021, para. 1-2). The 55 plus years of age show throughout the building.
The library itself is a medium sized room located in the middle of the school with two double doors at the front and back. Inside the carpeted room there is a small round desk for checkout towards the middle-back of the space. The exterior walls are lined with full bookshelves. Within the room there are several shorter double-sided mobile, three shelf bookcases. Additionally there are four person square tables each with four chairs to the left, and four round bar-height tables with three chairs to a table on the right side of the room. There is one more seating area that is more lounge-esque, featuring a soft padded yellow sofa like bench and several yellow and red padded sitting-stools. When I visited in person, I was surprised by how small the library space felt.
Services and Intellectual Access
A description of services in the library found on the school's interactive map says, "[t]he JYMS Media Center is a flexible space that provides a wealth of information services to students and staff, in many different ways. From borrowing books to research, and in-services to conferences, the media center is a true learning hub of JYMS. Resource reservations, technology help, and engaging lessons are but a few of the many things you'd find our media specialist doing, on a daily basis" (Kubinak, 2021, book icon). I hope that in practice the John Yeates Middle School Library lives up to its lofty claims, and is truly a place where students have the ability to utilize a learning hub, access materials, conduct research, and receive instruction.
However, I was concerned by signage on the back doors to the library that said to stop and go around, because this space was being used as a classroom. The American Association of School Librarians (2009) specifically identify one of librarians missions as, "providing access to materials in all formats, including up-to-date, high-quality, varied literature to develop and strengthen a love of reading" (as cited in Rubin & Rubin, 2020, p. 154). These signs indicate there could be some major infringement occurring here on student's access to this space and its accompanying resources, because if they aren't welcome in the space how can they possible utilize or benefit from it?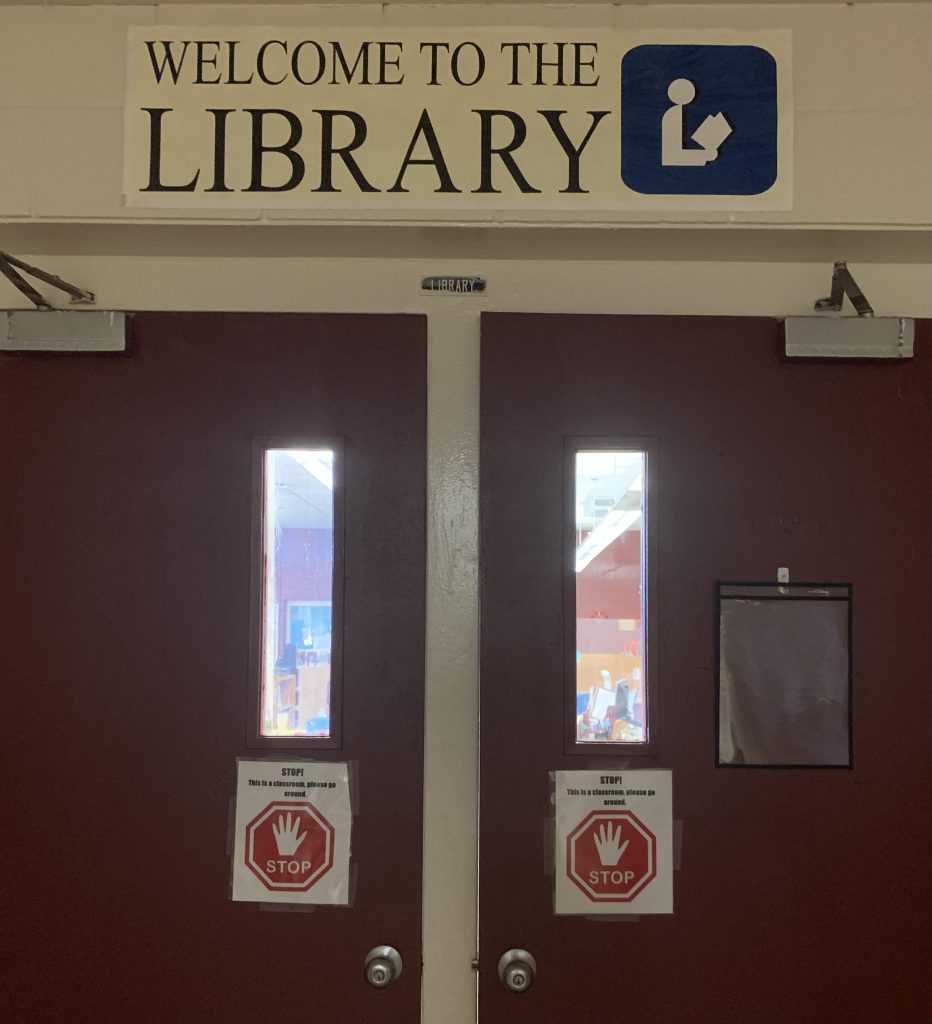 People (Patrons and Staff)
Despite this visit occurring during the summer while JYMS is on summer break, and the consequential lack of students, there were people in the library. It appeared that these individuals were teachers and other education professionals using laptops to work quietly on Professional Development in the library space. The "exploratory section" of the staff pages on the school's website only lists one library relevant personnel: Lisa Oleary as the Media Specialist. This page also gives the option to send an email to Oleary, or to call (757)923-4105 which is the school's phone number.
Digital Access
The website was somewhat difficult to find. From the JYMS homepage one must hover over "learning resources" and then click "Destiny Catalog", which takes you to a district landing page where individuals can then select the link for "John Yeates Middle School" which will take them to the library homepage on https://destiny.spsk12.net/common/servlet/presenthomeform.do?l2m=Home&tm=Home.
Once there, there is a tab for the catalog. However, every search I attempted to perform came back with an error message. That being said the "Destiny Discover" option for browsing, opened easily and showed relevant materials as well as pertinent information like if the book was available or currently checked-out. This option was clearly designed with students in mind, as it was very visual with clickable book covers that opened overviews and allowed for students to checkout if logged in.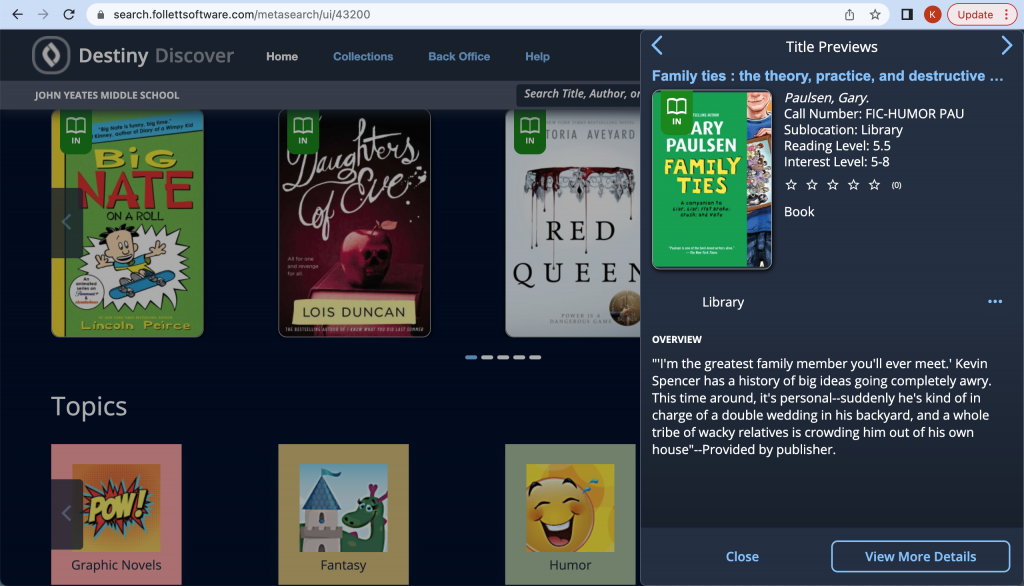 The "Standards Search" was also incredibly easy to use and could be a powerful tool for teachers. It allows for typed in text searches or browsing. Within the browsing feature users can narrow by state and subject to pull up specific standards, which will then pull all relevant materials under two tabs: websites or titles. The titles section had both physical holdings with corresponding call numbers and ebooks with direct links. Another handy feature here is that users also can save titles to a list or further refine the search.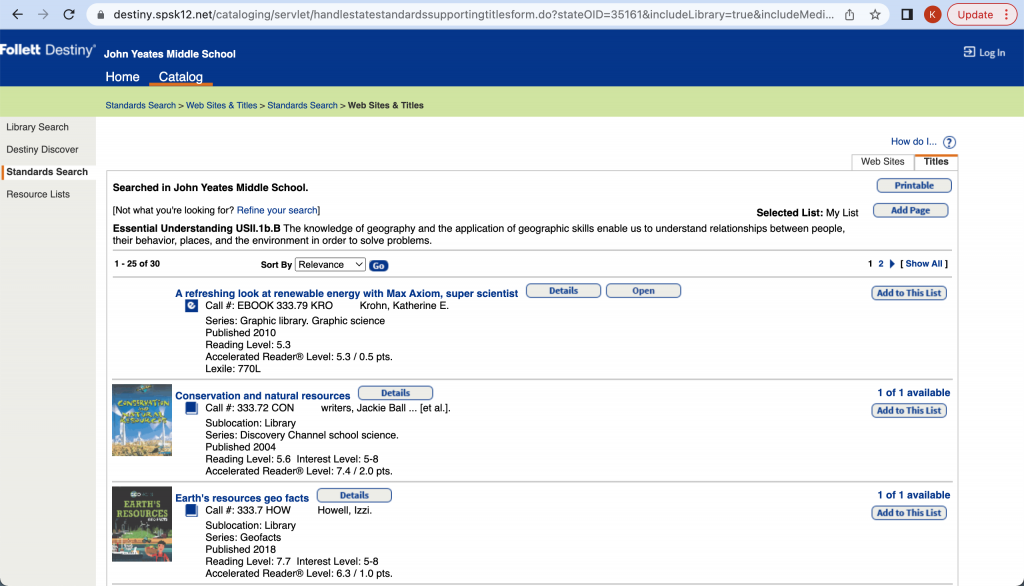 Collections
It is evident based on the collection that this library is intended for middle school students. There are an assortment of fiction and nonfiction materials geared to 6th thru 8th graders, as well as many middle grade reads on display, in both the physical and digital collections. The school's interactive map features a video with the Assistant Vice-Principal in the media center, and he speaks about the availability of chromebooks and a copy machine in this space (Kubinak, 2021, book icon). I believe that the level of digital literacy required to even find the library's homepage and catalog could be a barrier to use for some caregivers wishing to assist their students.
Other
This visit was a bit upsetting to me, as it highlighted a lack of funding and priority given to these middle schooler's media center experiences. It makes me want to pursue activity in the school board to be an advocate for these students. I wonder about Oleary's thoughts and initiatives regarding student access. I also am curious if parents and caregivers are aware of the space being repurposed for regular classes? If so are they fighting for their student's right to access, or do they even have the required capacity or knowledge to do so?
References
Follett School Solutions, LLC. (2022a). Destiny Discover. [Screenshot by Kiley Miller]. Retrieved July 11, 2022, from https://search.follettsoftware.com/metasearch/ui/43200
Follett School Solutions, LLC. (2022b). Standards Search. [Screenshot by Kiley Miller]. Retrieved July 11, 2022, from https://destiny.spsk12.net/cataloging/servlet/handlestatestandardssupportingtitlesform.do?stateOID=35161&includeLibrary=true&includeMedia=false&siteTypeID=-2&mediaSiteID=&ssOID=2029730
LaRoue, J. (February 9, 2021). Facility study details major needs at multiple schools. Suffolk News Herald. Retrieved July 11, 2022, from https://www.suffolknewsherald.com/2021/02/09/facility-study-details-major-needs-at-multiple-schools/
Kubinak, T. (2021) JYMS Interactive Map: Media Center. [Map]. Retrieved July 11, 2022, from https://www.thinglink.com/scene/1354867560733999106
Rubin, R. E., & Rubin, R. G. (2020). Foundations of library and information science (5th ed.). ALA Neal-Schuman.