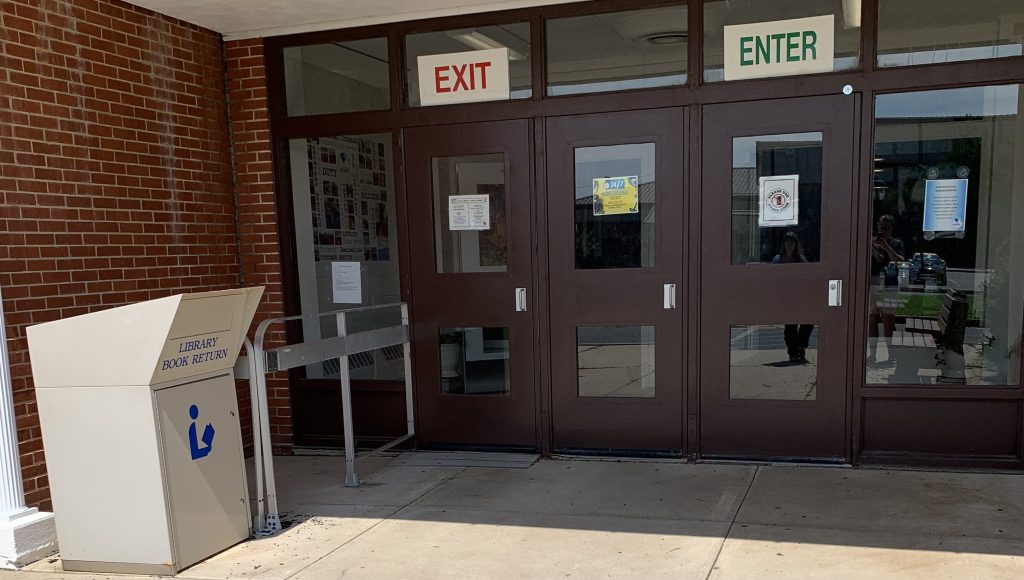 The Space and Physical Access
The Aberdeen Proving Ground (APG) Morale Welfare and Recreation (MWR) Library is located on a gated military base in APG, Maryland. The building is older, brick, and almost entirely one story. However, there is a ballroom on the left side of the building that is two stories. There is a book return drop box on the left before the three glass doors at the building entrance. When you walk in the building, to the left is the ballroom, straight ahead is a BBQ restaurant, slightly to the right there is a desk where military personnel can purchase tickets to theme parks and cruises at a discount, and all the way to the right there is a hallway leading to a billiard room you have to go through to access the library. When we arrived the library lights were off, but automatically flicked on as we entered the library space, which is really just a large room. The room has five stand alone bookshelves on the left hand side, a large desk in the center of the room, seven computers to the right of the room (on the same wall as the door), and shelves lining the exterior walls not occupied by computers.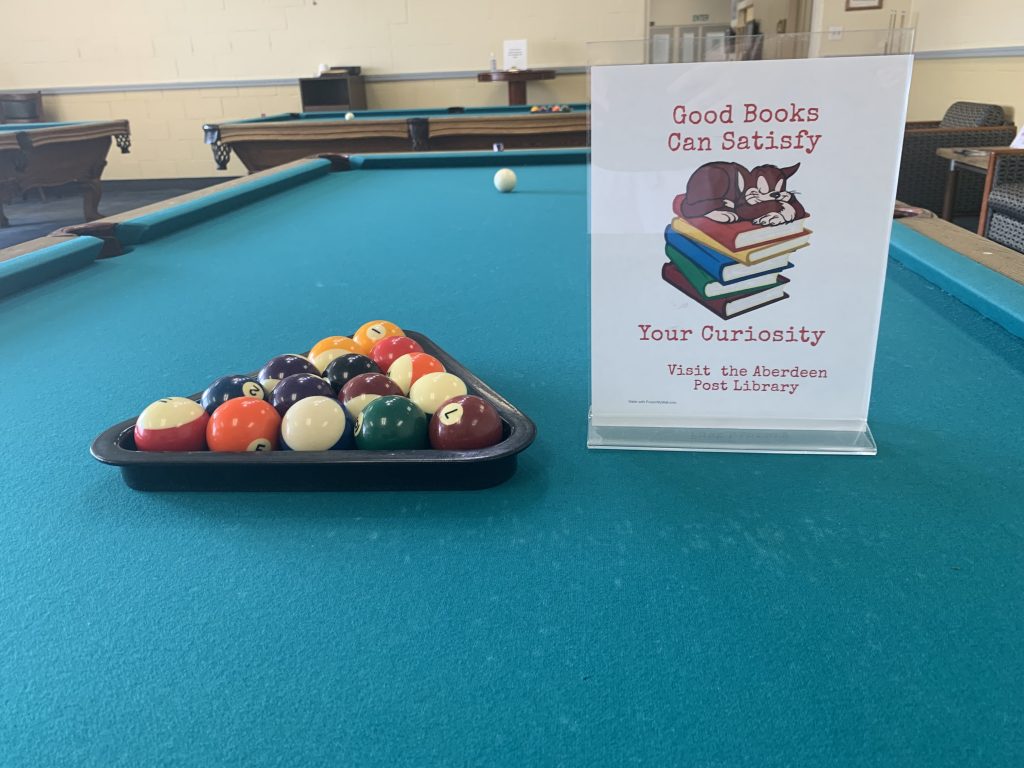 People (Patrons and Staff)
I found Rubin and Rubin's (2020) description of special libraries "hav[ing] a relatively small number of users and restricted access to relatively small but highly specialized collections" to be highly accurate of my experience (p. 198). There was no library staff on duty at the time of my visit, nor were there other patrons. However, "[t]he APG Post Library supports Soldiers, Dependents, Civilians, Retirees and Contractors" (Army MWR, 2021, para. 3). When my mom and I wanted to check out we exited the library space with the materials, and stopped at the first office outside the library next to the billiard tables. There we asked Mr. White of the MWR marketing department where we could checkout. He said that he could do it, and that he often gets that question due to the location of his office. When probed further, he said that there used to be full time library staff, but that now there is only one person sporadically assigned shifts there due to budget cuts. This lack of library staff supports what Murray (2013) found, "[w]ith fewer professional colleagues, continued professional education and training must be found outside the organization" (as cited in Rubin & Rubin, 2020, p. 199). I asked my stepfather who has frequented this location more, and he said there have been a few other patrons or at least one library staff there when he's been in. My stepfather thinks that the reduced workforce on the base as a result of COVID-19 has heavily impacted library attendance there.
Services and Intellectual Access
It was also interesting that to check out Mr. White just wrote down my mom's name and the call numbers of the materials on a square of scrap paper. When my mom asked when the materials were due back he said he thought 3 weeks, but he wasn't entirely sure due to the mix of items she'd selected.
There were several bookmarks available advertising services like TumbleBooks, National Geographic's Virtual Library, rbdigital, Chilton library online (automotive repair manuals), United Through Reading (program where deployed service members can record themselves reading stories aloud to send to their children), and the DoD MWR's summer reading program. The summer reading program: "2022 Army Family & MWR Library Summer Reading Program presented by United Through Reading" is advertised on their website to, "host a range of free activities for children, teens, and adults that encourage and support a love of reading" (APG Library, 2022, para. 1-2). There was a computer labeled as online catalog, but it was not on at the time of my visit. The books were organized by Dewey Decimal system. The DVD collection was alphabetical, but also divided into some genres and dates. There was a pre-2000's section, a 2000-2017 section, BBC & Foreign Films, TV shows, Children's, and a Biographies/Documentaries. All of the video games appeared to be organized alphabetically.
Digital Access
The URL for the website associated with the physical location I visited is https://aberdeen.armymwr.com/programs/apg-library. However, https://www.dodmwrlibraries.org/ is another important link, because it is the universal Department of Defense's (DoD) Morale, Welfare, and Recreation (MWR) website. The Aberdeen specific website is pretty basic, but does include pertinent information like address, phone number, hours of operation, and an email contact form. It also gives information on how to register by email, and lists library specific services. Their summer reading program page also listed information for how those eligible patrons not near bases could still participate virtually. There are several virtual programs and services offered through DoD MWR's one stop website that I mentioned. Some of these include: audio and e-books through Libby and OverDrive, Mango Languages subscription, Ancestry.com subscription, newspapers and magazines, continuing education options like O'Reilly or Universal Class, and options for streaming music and videos.
Collections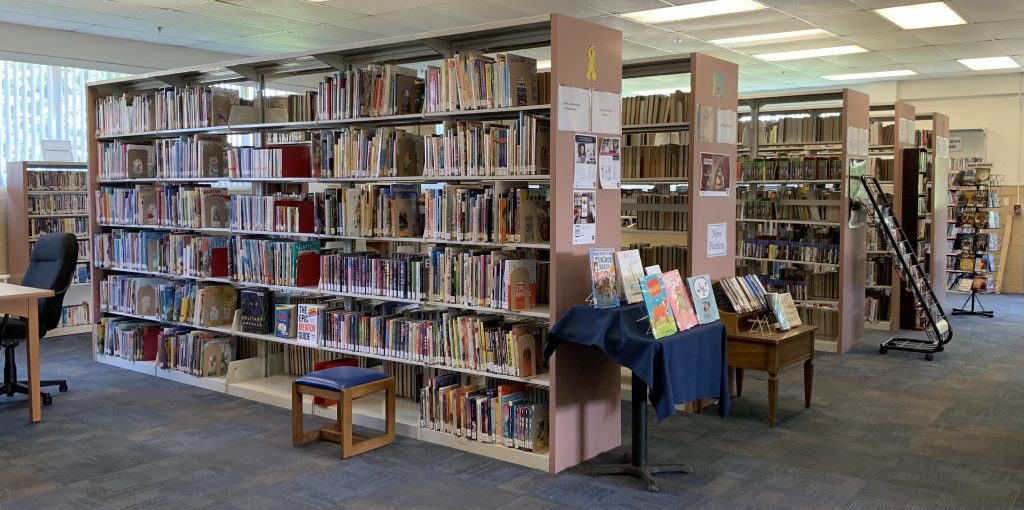 I was surprised by the amount of new material that as such a small library they did have. The audience for this library (predominantly young male military service members & military retirees) is also very apparent in the collection, perhaps more-so than in any of the other visits I did. There is one side of one bookshelf for children's/picture books, the other side of that case is middle grade reads and young adult materials. The next case front and back is fiction. The remaining bookcases are all non-fiction with a heavy emphasis on government, military, and war holdings. However, a very large portion of the libraries collection (all of the shelves on exterior walls excluding the seven computers) are dedicated to DVD's. There is also a sizable selection of video games for all the major consoles (Nintendo Switch, Playstation, and Xbox).
Other
One other neat feature of this library is the Touch2Play screen they have mounted to a wall between the DVDs. This interactive screen is connected to Blue Monkey Planet to play captivating videos, I saw a lot of animal type videos. It is also a game console of sorts and had about six games. You can play single or multiplayer, things like finger soccer or checkers.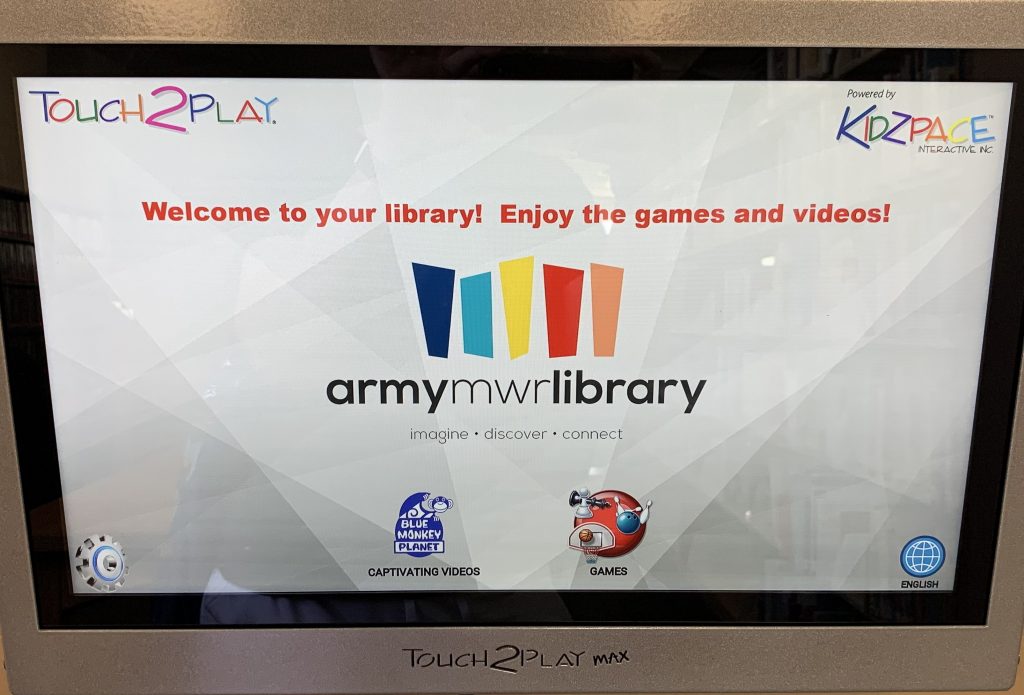 After this visit I am left wondering who is in charge of cultivating this collection, since there are only one or two staff that are sporadically assigned to circulation. I am also curious as to what the circulation reports for this location look like. I'd also be interested to know what the budget looks like and how drastically it has fluctuated over time.
References
APG Library. (2022). 2022 Army Family & MWR library summer reading program: presented by United Through Reading. US Army Family and MWR. https://aberdeen.armymwr.com/programs/apg-library/summer-reading-program
Army MWR. (August 5, 2021). APG Library. US Army Family and MWR. https://aberdeen.armymwr.com/programs/apg-library
Rubin, R. E., & Rubin, R. G. (2020). Foundations of library and information science (5th ed.). ALA Neal-Schuman.