3D Printing in the classroom
Having previous experience with coding, I selected to take this opportunity to explore 3D printing. I have always wanted to play around with it and incorporate it into our Makerspace in the library. Like Sekinger (2019), I believe the library should be a place of discovery, exhibition, innovation, and connection, and 3D printing is one way to inspire students to achieve their personal and academic goals through innovative technology. 
3D printing allows students to use multiple skills and be imaginative with their designs. In Dr. Kimmel's lecture (2020), she states, "if you can imagine it, you can create it." 3D printing also provides teachers and librarians to collaborate on lessons such as designing book covers or their favorite book characters. Librarians can teach students how to invent their designs using a file-sharing site or help them develop their own, teaching classes on how to use the printer and promoting projects. Librarians can promote a 3D printing contest for students focused on their favorite book and then draw a winner to receive a solo tinker lesson or a free book. 
3D Design Using Tinkercad
Using this tool felt bizarre at first. It took some time going through tutorials and mini lessons before I felt confident enough to start a design. I can see why the time limit was set for one hour; otherwise, I would have spent an entire day trying to figure out all the features and designing my product. Over the course of the hour, I wondered if this is how children feel when learning how to write. Unsure, worried about messing up, wondering if the placement made sense. Admittingly, I found it frustrating at times because I couldn't figure out exactly how to place shapes onto shapes with the perspective I wanted. I now understand why students, educators, and community members attend workshops and lessons. There is so much information to learn that it can feel overwhelming to do on your own or as a beginner like me. Once I got the hang of it, I enjoyed playing around with colors, shapes, and placement. Below is my unfinished cartoon project I worked on.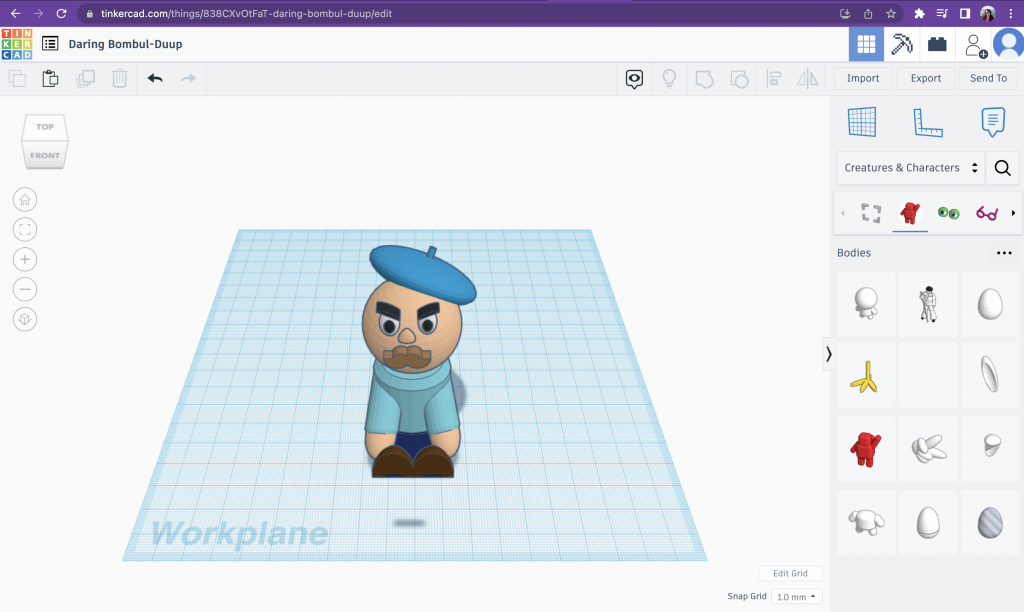 Once the school year starts, I hope to include 3D printing in our Makerspace. 
references
Kimmel, S.C., (2020, March 23). [Lecture video on 3-D printing for education]. Department of STEM Education and Professional Studies, Old Dominion University. https://canvas.odu.edu/courses/122974/pages/week-10-3d-printing-and-coding?module_item_id=2647907
Sekinger, N. (2019, February 19). Making a place for "3D" in our school library. IMADE3D. https://www.imade3d.com/2019/02/making-a-place-for-3d-in-our-school-library/
Tinkercad. (n.d.). From mind to design in minutes. https://www.tinkercad.com/dashboard?type=tinkercad&collection=designs