Welcome!
We are a cell physiology and biophysics research laboratory at the Frank Reidy Research Center for Bioelectrics at Old Dominion University. Our work focuses on using pulsed electric field as a modality for cell activation and nanoelectroporation.
---
The research in our lab is centered on nanosecond pulsed electric fields (nsPEF), from molecular and cellular mechanisms to prospective applications in cancer ablation, deep tissue stimulation, and defibrillation.
The studies primarily are focused on nanoelectropore opening and life cycle, conduction properties, cell stimulation and activation, membrane repair, and cell death mechanisms and pathways. The lab recently uncovered bipolar cancellation, a phenomenon that challenges existing electroporation paradigms and may enable targeted remote biostimulation with broad medical applications.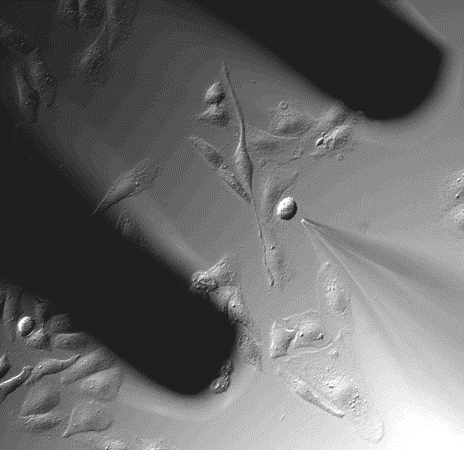 These studies are accomplished by combining advanced live cell microscopy techniques with single cell electrophysiology, targeted electroporation, and diverse cell biology and biochemical methods.