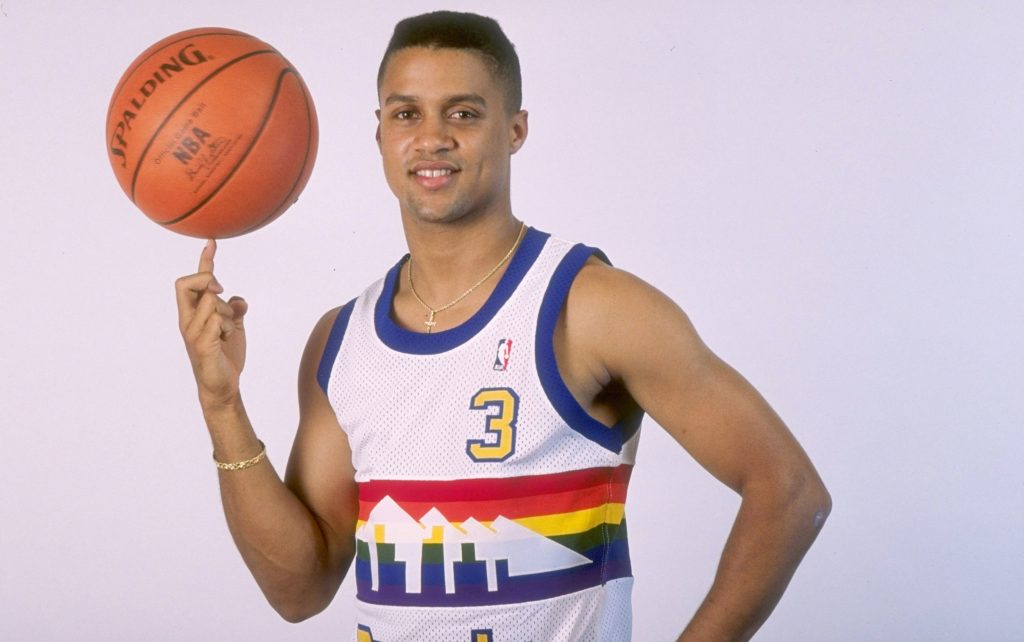 Mahmoud Abdul-Rauf was a star at LSU and a No. 3 pick in the NBA Draft. Abdul-Rauf was a jittery guard with superb shooting and ball handling skills.
The Denver Nuggets traded up for Abdul-Rauf (originally Chris Jackson) in the 1990 NBA Draft. Shortly thereafter, Abdul-Rauf converted to the Islamic faith. By the 1993 season, the 6 '1 guard averaged 19 points per game and 4 assists. In consecutive seasons after, he averaged 18 points and 5 assists, performing remarkably from 3 point range.
During the '94 season, Abdul-Rauf began to avoid part in the pregame national anthem, citing a corrupt, oppressive United States regime. In the beginning, Mahmoud tried to hide from attention, cloaking his level of participation with a stretch or bathroom break. As time went on, however, he would make seemingly larger statements, remaining seated for the anthem and delivering expressive quotes to the media.
In March of '96, Abdul-Rauf was suspended and docked for his anthem decorum, as it did not comply with the NBA's regulations. Media condemned and vilified Abdul-Rauf's position, as did many fans.
The next year, after being traded to Sacramento, Mahmoud's minutes began to nosedive. This was despite similar scoring outputs as before. By 1998, at age 29, Abdul-Rauf struggled to generate courtship from organizations.
During this era, professional athletes weren't as accredited or engineered into political journalism or academia as they are today. Owners, fans, media generally lamented players speaking up on systemic matters. This may have repressed a critical solidarity element when it comes to enhancing the persuasiveness of Mahmoud's argument. Some players have retrospectively come out as saying they "failed" to back up Abdul-Rauf.
The media's portrayal of Abdul-Rauf's faith and activism contorted the value of his athletic achievements. It also muffled a credible message with societal implications. Denver Nuggets fans tried to show respect to Mahmoud, but the team's executives fancied any chance to get rid of him.
Abdul-Rauf never received the natural opportunity to promote the values he advocated for. As a matter of fact, the tale of his activism would not be told until recent years, in the aftermath of Colin Kaepernick's demonstrations. As it turns out, Abdul-Rauf broke ground for modern athletes such as Kaepernick to organize and communicate against the radical injustices that pervade our society.