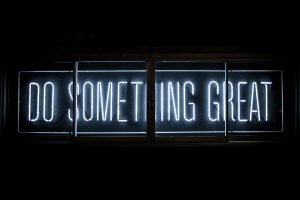 As part of our LeADERS initiative, we are guaranteeing any student who wants an entrepreneurial course the opportunity to take that course.  Referring to these courses as "entrepreneurships," students will be given the opportunity to apply their academic knowledge to identify, research, and design solutions to the problem they have identified. The development of entrepreneurships is traced to four themes guiding our entrepreneurial ecosystem at Old Dominion University.
First, the entrepreneurial culture at the university is based on the recognition that entrepreneurship occurs in all fields – from business to health care to engineering to the arts. Following this very basic premise helps us to show our students that they can develop the skills they will need to respond to the wide range of problems they will confront in the years to come.
A second theme guiding our entrepreneurship programming is concerned with how we define entrepreneurship. To some, entrepreneurship is about starting businesses. While this is an acceptable definition of the concept, for many of us it is far too narrow of a definition. Instead, a preferred strategy is to define entrepreneurship as problem solving.
Such a definition encourages, supports, and promotes all forms of entrepreneurship – from traditional business development to social entrepreneurship efforts such as opening a non-profit, figuring out ways to feed the hungry, or identifying strategies to bring educational opportunities to those who otherwise would not have them.
Third, our entrepreneurial culture recognizes the value of teamwork. From having a university president who supports and promotes entrepreneurship in all its forms, to having vice presidents and deans who provide the necessary infrastructure, to having faculty and staff who embrace entrepreneurial ideals, at ODU we recognize that entrepreneurship does not occur in isolation.
Without a doubt, the most effective entrepreneurial efforts include groups of individuals from multiple backgrounds – academic and personal alike. With an incredibly diverse student population, we are able to create teams of student entrepreneurs who come from multiple walks of life and various academic backgrounds.
Fourth, we don't just emphasize teamwork among students; we also encourage teamwork among our professors.  It is within this context that we have developed new entrepreneurship courses across the university.  In these courses, we will bring together upper level students with faculty from across the university to work with students on solving problems the students have identified,  The problem solving educational efforts will be considered within an entrepreneurial framework,  These efforts will include social entrepreneurship projects as well as business entrepreneurship efforts.