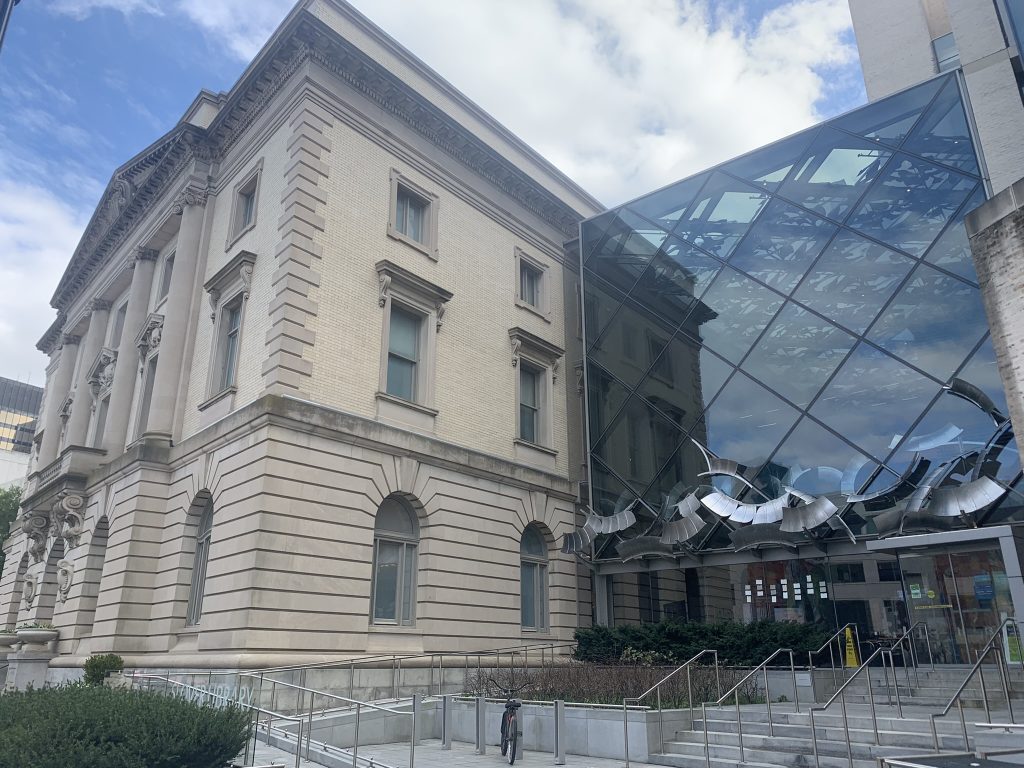 "It's kind of like a cruise ship that's empty of people."
-Slover Library staff member
When I approach Slover Library in downtown Norfolk, the first impression is one of grandeur.
Two buildings of historic brick sandwich a glass atrium with nautical metallic sculptures across the top. The effect is one of a futuristic sea ship parked between a grand town hall and a fancy bank. A series of wide, easy steps leads up to the building, or a shallow ramp, depending on your preference. A lone bicycle occupies the bicycle parking area.
As for car parking, it's downtown Norfolk, and therefore difficult; I've had to park in a garage two blocks away and pay $1.50. If I lived close enough to a stop on the Tide, Norfolk's public transit system, I could have been deposited at the MacArthur Square stop, a mere 200 feet from the library. But I don't. And I'd bet I'm not the only one.
The place is eerily empty as I approach – I'm used to libraries being centers for all kinds of social gatherings, but that was before the pandemic. Now the steps are empty, the doors unmoving.
There's nothing for it. I walk up to the automatic doors and I step inside.
Slover Library opened in 2015 after donations of more than $60 million were committed to the project. This history is well-detailed on its website at https://www.sloverlibrary.com/ (Slover Library, n.d.). It was intended to be the main anchor branch of the Norfolk Public Library system, the crown jewel out of eleven different branches. After a public split in 2019, Slover became its own department, but still remains part of the Norfolk Public Library system in many ways. The website is easy to navigate, with a number of webpage options listed across the top of it. For the actual catalog, one is redirected to the Norfolk Public Library website (Norfolk Public Library, n.d.). This not only lists the physical books available in the system, but also other resources that are a part of its collection. For eBooks, one can turn to Biblioboard, Gale Virtual Reference Library, hoopla, or OverDrive; eAudiobooks are also available through hoopla and OverDrive, and hoopla is a source of eVideos and eMusic as well. There is also a list of magazine and newspaper resources, including Access World News, InfoTrac Newsstand, National Geographic Kids, The New York Times, Norfolk Journal and Guide, The Virginian-Pilot, and Research Rocket.
Slover Library serves the public in general, as is evident from the wide range of services mentioned on its website (Slover Library, n.d.). It seems especially interested in catering to kids and teens – services include a teen book club, babygarten, toddler time, a teen art class, YOUmedia rigs, and a partnership with Girls Who Code, all of which have been held virtually since COVID-19 began. There is also a collection of creative studios – a design studio, a maker studio, a production studio, and a sound studio. A lecture series called the Brinkley Family Memorial Lecture Series has been put on hold due to the pandemic. One frequently mentioned feature is the Sargeant Memorial Collection, which stars a variety of books, periodicals, maps, photographs, and more from throughout Norfolk's history.
The alt-text on images is not great, and the language on the front page not particularly simple, although some of the other pages are better. All in all, it feels neither uninviting to me nor especially inviting. Contact can be achieved through a series of phone numbers for different departments; there are also dedicated email addresses for the creative studios, the Sargeant Memorial Collection, and events. The website lists nothing about the staff, neither their positions nor how many there are. For that information, I will have to speak to someone at the library.
When I enter through the doors, I am struck again by the emptiness.
This is a space that was meant to hold dozens of people, hundreds if you count the floors above, but I spot maybe two other patrons throughout my entire visit – and it's 3:30 on a Friday. The staff outnumbers the patrons four to one. I catch three at the checkout desk, occasionally leaving to shelve; two at the information desk; one security officer; two at the reference desk in the popular fiction section; and three upstairs, later, one per active floor. There is a certain sense of diversity among the staff along some axes – the security officer is transgender, as evidenced by a mask with a trans flag and the words "My pronouns are She/Her;" another has blue hair, which isn't actually diversity but tips the odds slightly more in favor of my being welcomed as a queer person; another tells me they're hard of hearing. Only two of the eleven staff members I spot appear to be people of color, though, both Black. I can see other queer people being the most comfortable here, and I can see people of color being the least comfortable. I wonder at the statistics of their entire staff.
This library serves the public, with a clear focus on families with children that I will describe as I go on, but the public is not interacting with the staff today, only browsing the young adult and DVD sections. I see the staff talking to each other, a bit; I am the only patron that approaches them, at first, but as I'm standing there, another patron asks to be allowed to an upper floor. I am surprised – I thought the upper floors were closed. I contemplate going up. It's only fair that I do. And, I think, there might be more people up there.
(Besides the staff, there will not be.)
Beyond the people, of course, is the building itself, the collection. It's just as grand inside as it is on the outside, with fantastic brick detailing and a continuation of the metallic sculpture above. The first thing that catches my eye is a display about Arctic Exploration. A large, friendly polar bear statue guards the nearby table that features accompanying books. I pat the polar bear statue on the head every time I come here; I do so again, now. It's a little pandemic ritual – a little I see you, in the emptiness. This theme of child-friendliness will continue throughout my visit. Many of the displays are clearly designed with parents and children in mind.
Next up is a hand-painted shelving unit serving as a seed library, allowing people to take seeds for free and grow them at home. Beyond that begin the individual displays. I spot ones for multiple sclerosis, epilepsy awareness, Ice Cream Day, Zoo Day, BIPOC women in horror (my favorite!), hiking, crafting, author birthdays in July, magazines for kids and families, current events – and I've still only seen the ground floor. Many different audiences are welcomed here. For some reason, the disability inclusion surprises me, something I was not expecting but do appreciate.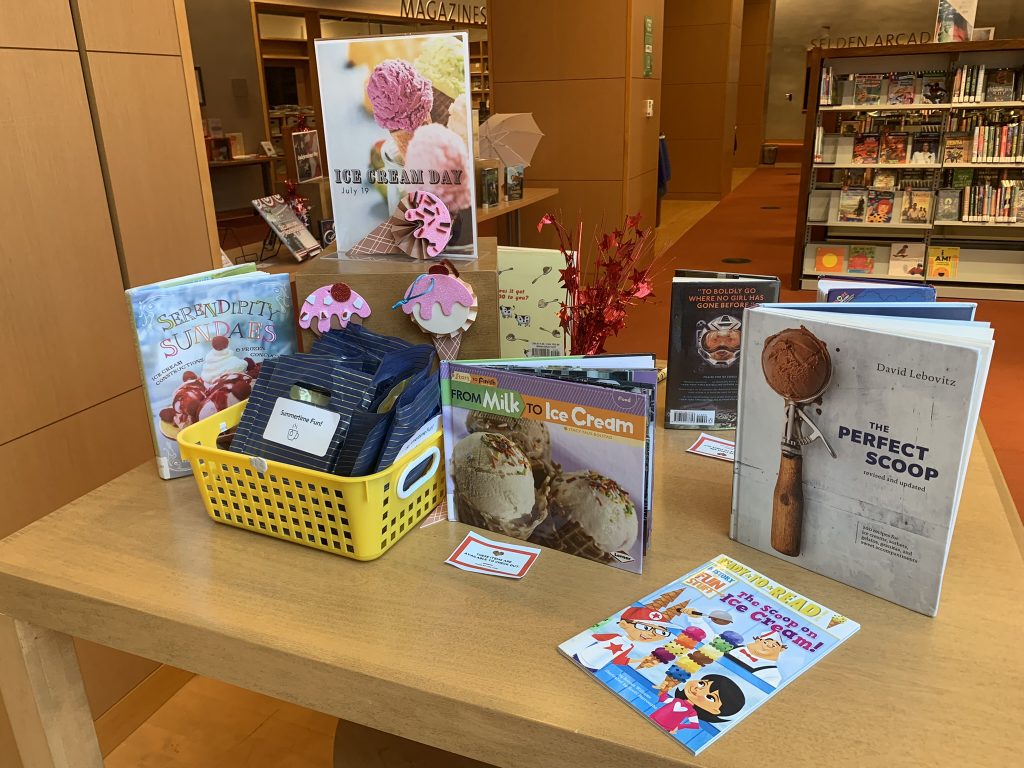 The space itself has a few benches, but not a bevy of seating; the benches are not soft but at least are free from any anti-homeless architecture. I check the Code of Conduct on the wall. Sleeping is not permitted. I wonder how long it would take for me, middle-class and white, to be interrupted if I were to doze off. Do unhoused people spend their time here? They must, sometimes – it's a library. I understand the rule against sleeping, but I do not like it. I move on.
The young adult section stretches just as high as the rest, but the children's bookshelves are lower to the ground. The space is quiet in a way that will be nice for people who need quiet and hard for people who have difficulty being quiet. Later, I will see that some of the floors are marked quiet floors – oases in the busy city, and there are other spaces marked for collaboration. Overall, I think the library is fairly accessible for people with different needs, but it could definitely use more comfortable seating on the ground floor.
I'm counting the signs as I go, taking pictures – book review contest, pay your fines online, award of excellence, greeting cards on sale, DVD limits raised from 5 to 10, virtual babygarten program, multiple ways of saying not to eat in the library, and numerous ways of saying to wear a mask. Somewhat inexplicably, the copier room is the place that's filled with pamphlets – tourism, health, career. One addresses HIV, another a STEM scholarship program. There's something here for everyone. I can't help but think this would all be more useful were it not so tucked away. Some televisions are mounted in various places to display messages in the same vein as the other signs. I don't see any signs of a patron-accessible catalog yet. If they're encouraging patrons to speak to a staff member, I'm not overly enthused. I much prefer catalogs I can navigate on my own. But it's time to approach a staff member anyway, for a service that, due to the pandemic, only they provide.
It's time to ascend.
I am worried that my request to visit multiple floors will be seen as a burden, but the staff is more than happy to help me. They enthusiastically recommend I start with the fourth floor and work my way back down. I press the button for the fourth floor. As the elevator doors close, I hear someone on a radio behind me, warning the fourth floor staff of my impending arrival. That must be another COVID invention.
The doors open on a wide information desk built into the wall. To the left, a view back down at the stairs and the floors below, along with restrooms and a locked door leading to staff-only rooms; to the right, the actual collection.
This is where I hit a stroke of luck. The person staffing the fourth floor is delighted to provide me with a stream of information about the library, some of it in answer to questions I wouldn't even have thought to ask.
First, the basics. The second floor is children's fiction, the third and fourth nonfiction – split evenly down the middle, with reference through the end of the 600s on the third floor and 700s-999 on the fourth floor. (Dewey Decimal, of course.) I make my way through the stacks and note the Dewey Decimal numbers on each spine. This, as opposed to the organization downstairs in popular and young adult fiction, which is of course alphabetical by the author's last name.
There are dead screens on the front and back of the middle stack. When asked, the staff member explains they usually hold a patron-navigable catalog, but the software has been buggy and the City of Norfolk working (slowly) on fixing it. A screen next to the information desk is apparently usually a wayfinder, helping people get from one place in the library to another. I can see how, once upon a time, it would have been needed. This place is enormous. But now enough of it has been shut down that it's easy to find my way alone.
In addition to the same stacks as the fourth floor, the third floor also contains the Hendricks Business Department and the group work area – collaborative rooms with dividers. My new favorite staff member then offers to take me up to the fifth and sixth for a look around, just because I'm doing this project. I readily agree.
The sixth is for big events. Large author talks, the Brinkley lecture series, weddings, once a downlink from the ISS! They've held Drag Queen Bingo here, and every month Slover Tabletop Gaming comes to meet in the Landmark room.
The fifth is the young adult floor. Right now it is mostly a gaming and lounge space, with an art room, a hangout area, study rooms, and a music room – homeschooler and dance groups meet here, among many others. I'm told they're going to rethink the planning of the space soon. They'll bring the young adult books up here, which does seem to be more where they belong – fiction, graphic novels, manga, nonfiction, all of it. Back in the day, apparently, this floor was busy at all hours of the day, alive with teens and laughter. Now it, too, is empty. I take pictures of the cozy chairs here and turn back to the elevator once more.
On the way down, I reopen the catalog on my phone, a frequently visited site. It discusses the resources and collections that are harder to see than the books, magazines, DVDs, and audio tapes I've encountered so far. It has book club and science kits for checkout, for example, not to mention the Sargeant Memorial Collection, which is now open only Tuesdays and Thursdays from noon to five, or other times by appointment. I have learned today that the upper floors, second through fourth, are only open in the afternoons, 1-4. The library in general is open 9-5 most days, but closed entirely on Sundays and Mondays. These are the true accessibility barriers to the collection; the collection in itself seems diverse enough to cater to people of different physical, developmental, and intellectual backgrounds.
Next stop is the second floor, the children's area. Here I find more displays – the most prominent one about planting flowers. It is clear that a lot of joy is taken in the running of this floor. All kinds of friendly and welcoming decorations cover the walls, but then, there it is again – a large room with a 'Closed Until Further Notice' sign. At the front of the stacks is a section marked 'Early Literacy Library,' with a wide variety of books intended to help students learn to read. As Rubin and Rubin (2020) state in their book Foundations of Library and Information Science, "Libraries are… important resources for children, introducing them to books, reading, literacy, critical thinking skills, and concepts such as digital citizenship and information literacy" (p. 28). The virtual programs for babygarten and toddler time will help with digital citizenship, I am sure, probably more than the in-person ones did. Still, something is missing with no programs being held in person. I have seen no children here today.
I have further questions for my friendly staff member, one of which being – how many staff does Slover Library have, anyway? I've done deep dives into government websites for another class and never received a satisfactory answer. The staff member not only answers from the top of their head but actually goes and checks the staff scheduler for more information. 25 full time, comes the reply, with 7 part-timers, and they're hiring more as they can. A couple of staff who are non-patron-facing, like those who manage the social media. But it's difficult to run the place with so few staff members.
And then, just like that, we are talking about the pandemic.
"It's kind of like a cruise ship," they tell me, "that's empty of people." Everyone was laid off when the pandemic began, and there is not enough funding yet for major rehirings. The sheer size of the building requires staff on each floor, which adds up. "We are literally a cruise ship," they say again. "If you don't have someone manning every floor, mischief happens."
I ask about the mask policy and am told that masks are optional, though both I and all the staff are wearing them. This does not thrill me. Masks, at this point, have become an accessibility feature – some people with compromised immune systems or vulnerable family members may not be able to enter a maskless establishment at all. I know the city relaxed its requirements, but I find myself wishing Slover had kept them in place anyway.
The mission of Slover Library is apparent on every floor, in its displays and in its collection. The American Library Association has "emphasized that a central mission of the public library was to provide a 'community' center, not just a place for individuals in the community to receive service" (Rubin & Rubin, 2020, p. 83). Slover Library was built to be a community center. It has plenty of collaborative space, not to mention its various studios, which I saw from the outside but could not enter without an appointment.
The inclusivity surprised me – the variety of the displays. The emptiness disappointed me. Overall, I would say the visit made me feel contemplative, almost mournful for a pre-pandemic heyday that I missed out on completely. It must be even worse for the people who had come to depend on the library and its events. If there's anything I want to know about Slover, it's the future – when will full access to the upper floors be given once again? What will happen as the pandemic continues? And for public libraries in general, I want to know how they're handling COVID, staffing issues, and relaxed mask mandates.
Slover is not the only library impacted by this pandemic. We are a world of libraries struggling with new challenges and new realities. All we can do is hope that, one day, these concerns will be alleviated; a path forward will make itself clear.
And maybe Slover Library will once again be as open as its designers intended.
References
Norfolk Public Library. (n.d.). Catalog home. https://nfpl.ent.sirsi.net/client/en_US/default
Rubin, R. E. and Rubin, R. G. (2020). Foundations of library and information science (5th ed.). ALA Neal-Schuman.
Slover Library. (n.d.). Norfolk Public Library Sargeant Memorial Collection. https://www.sloverlibrary.com/sargeant-memorial-collection