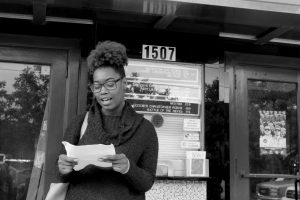 In fall 2017, Old Dominion University students in Cathleen Rhodes's Queer Studies course partnered with the Tidewater Queer History Project to develop a queer walking tour of Norfolk. Though not the first LGBTQ-themed walking tour in the area, it was the first designed and led by students. Their work started with examining Our Own, the Norfolk-based gay newspaper that ran from 1976 – 1998. ODU Library's Special Collections has the only known full print run of the paper still in existence. Students spent hours combing through old issues looking for interesting people and places from Tidewater's queer past and identifying several interesting topics for inclusion in a walking tour.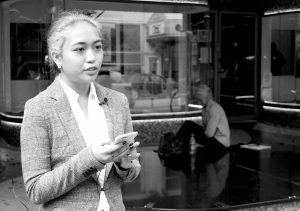 Student Caroline Ramos designed a tour route from the possible list of topics. She selected areas of the city with high concentrations of interest, mapped a route with four legs (downtown, the Neon District, Ghent, and the area surrounding ODU), and narrowed student selections to one location for each student. Students then used Our Own, The Virginian-Pilot, personal interviews, and a wide variety of other primary and secondary sources to uncover details of Norfolk's queer past.
Courtney Rojas, marketing guru, used social media to get the word out to the community about the event. On the day of the tour, Courtney documented the process through a series of photographs and videos, updating social media for community members unable to attend the event as the class snaked through Norfolk's streets and alleyways.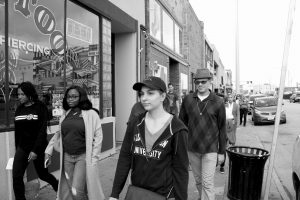 Chris served as sound engineer, micing students while the class traveled between locations and then capturing their presentations in digital recordings, many of which are available on this site. This brings the walking tour to you even as you view/listen on the couch in your own living room. It was important to the class that we bring this information to the community in a variety of ways, and these recordings captured the tour as it happened, preserving important and moving parts of the day.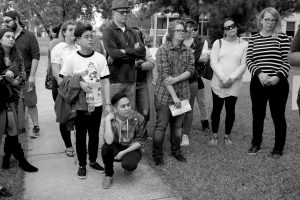 Halfway through the tour participants were met by a small but vocal group of anti-gay protestors waiting at the Unitarian Church of Norfolk. Protestors likely heard about the tour through social media and greeted students and community members attending the tour with vitriol. While some students had encountered such groups before, for some, particularly straight allies in the group, this was their first time witnessing this sort of homophobia in person. Students persevered, continuing with presentations at the Unitarian Church of Norfolk though the protesters made it difficult to hear until UCN president Allen Perry welcomed three dozen tour participants inside the church so that presentations could continue uninterrupted.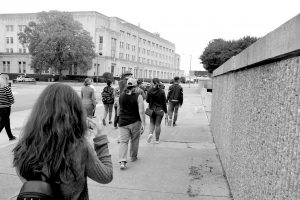 Ultimately, students spent a great deal of time researching, interviewing, writing, and editing to pull this tour together. The tour itself lasted for three hours — a testament both to the wealth of information amassed by students and to Norfolk's rich, interesting LGBTQ history. Upon completing the tour, several students opted to research a second location as a way to capture even more of that history. This website serves to document this work, preserve it, and present it to the community.