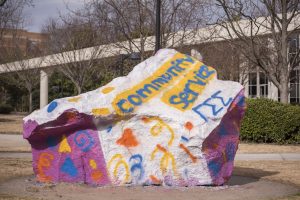 Dominion Rock lies diagonally across from Webb University Center on the campus of Old Dominion University (ODU). The rock is painted periodically by students in various colors, designs and messages. It has become one of ODU's newest traditions.
History
Christopher Ndiritu, class of 2016 and president of the Student Government Association (SGA), came up with the idea of Dominion Rock as a free space for students to express themselves through art to promote events, holidays and symbols of Monarch Pride. The rock was discovered in a quarry in Culpeper County, Virginia in 2016 and was placed in it's current location in 2017.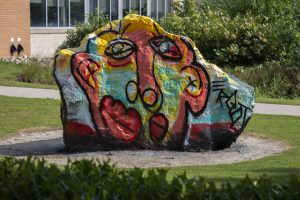 Resources
Building the University, Old Dominion University Libraries Digital Exhibit, 2005.
References
Walzer, Phil. "ODU's Newest Tradition Really Rocks," Monarch Extra, April 2019, https://www.odu.edu/about/odu-publications/monarch-magazine, accessed 2019 April 17.