Leo Anthony (1940-2019) was an all-star basketball and baseball player at the Norfolk Division of the College of William & Mary from 1957-1961. He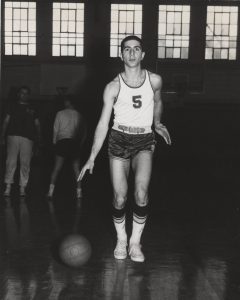 was the first All-American athlete in the history of Old Dominion University (ODU) and was a member of the first ODU Sports Hall of Fame induction class in 1980.
Norfolk Division Athletics
Born and raised in Bronx, New York, Anthony arrived at the Norfolk Division in 1957 and played on both the varsity basketball and baseball teams, both coached by Arthur "Bud" Metheny. The six-foot guard was known for his quickness and ability to get free for shots. During his freshman year, Anthony averaged 24.1 points per game, followed that up with 25.3 as a sophomore and 26.3 as a junior. He still has the all-time record for highest career average of 26.6 points per game. In February 1961, Anthony scored 60 points in a single game against Lynchburg College and is still the most points scored by a Monarch to date. In addition to being named an All-American, Anthony also was named to the All-Virginia team four times and voted Player of the Year in Virginia twice. From 1957-1961, Anthony amassed a total of 2,181 points, which remained a career scoring record until Ronnie Valentine broke the record during the 1979-1980 season. Anthony held 11 of Old Dominion's 13 basketball records when he graduated in 1961 and the team held a 55-27 record during his tenure.
In addition to basketball, Anthony also started at shortstop all four years on the baseball team.
Personal Life
After graduation, Anthony began teaching and coaching in high schools in Hampton Roads including Granby High, Norfolk Academy, Maury High, Princess Anne High, and First Colonial High. His high school teams at Princess Anne and First Colonial went on to win 8 and 2 district basketball championships, respectively. Anthony's high school teams went on to win over 400 games in basketball and golf.  Leo Anthony passed away on March 21, 2019 in Virginia Beach, Virginia at the age of 79.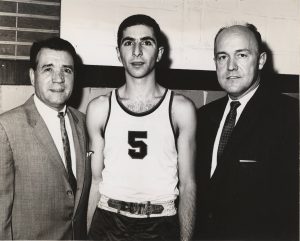 Resources
Leo Anthony Basketball Profile, Old Dominion University Athletics, Old Dominion University.
Old Dominion University Photographic and Multimedia Collection, Special Collections and University Archives, Perry Library, Old Dominion University, Norfolk, Virginia, 23529.
Images of Leo Anthony can be found in the Old Dominion University Libraries Digital Collections.
References
Leo Anthony, ODU's First Basketball All-American, Passes Away at Age 79, Old Dominion University Athletics, 2019 March 25, accessed 2019 April 18.
Bookman, Steven and Jessica Ritchie. Old Dominion University: A Campus History Series.  Arcadia Publishing. Charleston, South Carolina, 2017.