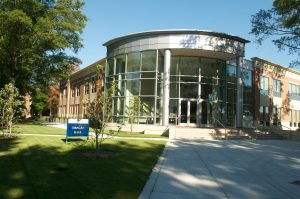 Dragas Hall is one of the five buildings that surround Kaufman Mall on the campus of Old Dominion University (ODU). It is located on the East side of the mall next to the Visionary Arts Building (VAB). It is currently home to the English Language Center, Office of Study Abroad, International Programs, and the Filipino American Center, among others. The building is named in honor of George Dragas, alumni and former Rector of the Board of Visitors, and his brother Marcus.
History
Hughes Library
With the creation of several four-year programs at the Norfolk Division in 1954, a new building was needed to house the expanding library collection. Built in 1958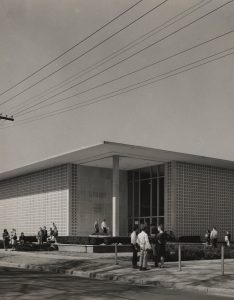 and dedicated in 1959, Dragas Hall was originally known as Hughes Library after Robert Morton Hughes, a Norfolk attorney, former Rector of the Board of Visitors at the College of William & Mary, and a supporter of the division. It was the first free-standing library building on campus and was the first building on what would eventually become Kaufman Mall. The first floor was dedicated to the library and the second floor was used as classroom space. With more students enrolling at Old Dominion in the 1960s and 1970s, the library was running out of space and a new library was opened in the fall of 1976.
Hughes Hall and Dragas Hall
After the library moved in 1976, the building was renamed Hughes Hall and was used as faculty offices and classrooms. A large renovation project began in the mid-2000s, and in 2008, the Board of Visitors renamed the building Dragas Hall and commemorated the history of the building by dedicating the Hughes Atrium.
Resources
Building the University, Old Dominion University Libraries Digital Exhibit, 2005.
Old Dominion University Photograph and Multimedia Collection, Special Collections and University Archives, Perry Library, Old Dominion University, Norfolk, Virginia, 23529.
ODU Photographic Collection, Old Dominion University Libraries Digital Collections, Old Dominion University Libraries.
References
Bookman, Steven and Jessica Ritchie. Old Dominion University: A Campus History Series.  Arcadia Publishing. Charleston, South Carolina, 2017.