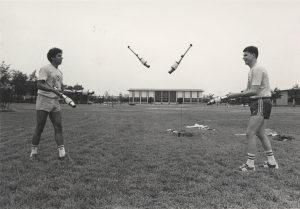 Kaufman Mall is located between Hampton Boulevard and Webb University Center on the north and south and 47th and 49th Streets on the east and west. It is one of the most recognizable areas of the Old Dominion University (ODU) campus and the site of numerous events throughout the year. While not officially named Kaufman Mall, the area derives its name from Kaufman Hall that sits on the west side of the mall.
History
With the growth of student enrollment in the 1960s, more academic buildings we needed. Plans for the mall began in 1965, but due to several setbacks, mostly funding, the mall was not fully landscaped until 1976. By 1971, all the buildings surrounding the mall were completed, including Webb University Center, Kaufman Hall, Duckworth Hall (now a part of Kaufman Hall), the Education Building (now Monarch Hall), Hughes Library (now Dragas Hall), the Fine Arts Building (now Visual Arts Building), and J.A.C. Chandler Memorial Hall (now Constant Hall). Another landscaping renovation was completed in the 1990s and a large replica of the ODU Seal was placed on one of the walkways. In 1997, a large 1,000 pound bronze lion statue was incorporated into the existing fountain, now known as Monarch Fountain. As part of the Commencement exercises, the faculty and students process from Webb University Center through Kaufman Mall on their way to the Ted Constant Convocation Center (Ted).
Resources
Old Dominion University Photographic and Multimedia Collection, Special Collections and University Archives, Perry Library, Old Dominion University, Norfolk, Virginia, 23529.
ODU Photographic Collection, Old Dominion University Libraries Digital Collections, Old Dominion University Libraries.
Building the University, Old Dominion University Libraries Digital Exhibit, 2005.
References
Bookman, Steven and Jessica Ritchie. Old Dominion University: A Campus History Series.  Arcadia Publishing. Charleston, South Carolina, 2017.