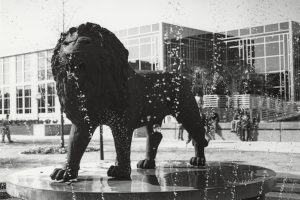 Monarch Fountain is located on the north side of Kaufman Mall just outside the main entrance to Webb University Center on the campus of Old Dominion University (ODU).
History
Constructed as part of the landscape renovations to Kaufman Mall in the early 1970s, the fountain was originally known as Labor's Fountain when it was dedicated on April 24, 1976. Funding for the fountain came from the Greater Tidewater Virginia Central Labor Council AFL-CIO. Designed by Kevin Gallup, class of 1985 and an faculty member, a six-foot, 1,000 pound bronze lion was placed on top of the fountain pedestal on Founder's Day in 1997. The blue footprints leading to the fountain represent the lion's actual stride. Over the years, the fountain has spawned a tradition of dyeing the water blue during Homecoming.
Resources
Old Dominion University Photographic and Multimedia Collection, Special Collections and University Archives, Perry Library, Old Dominion University, Norfolk, Virginia, 23529.
ODU Photographic Collection, Old Dominion University Libraries Digital Collections, Old Dominion University Libraries.
Building the University, Old Dominion University Libraries Digital Exhibit, 2005.
References
Bookman, Steven and Jessica Ritchie. Old Dominion University: A Campus History Series.  Arcadia Publishing. Charleston, South Carolina, 2017.