Located on Kaufman Mall next to Dragas Hall, the Visual Arts Building is home to the Strome Entrepreneurial Center, Center for Cybersecurity Education and Research, and staff offices for the Department of Mathematics and Statistics.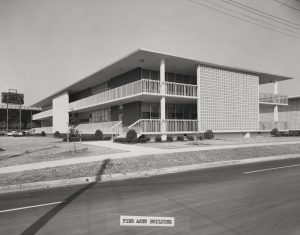 History
Opened in 1960, the Fine Arts Building consolidated the Department of Music, Department of Art, and the Department of Foreign Languages into one building. The building's distinctive look was created using solar block to keep the building cool.  In 1982, the Elise N. Hofheimer Art Library was added. The building was renamed the Visual Arts Building in 1991 after a substantial renovation. The building was renovated again from 2013-2014 to make way for the newly dedicated Strome Entrepreneurial Center on the first floor.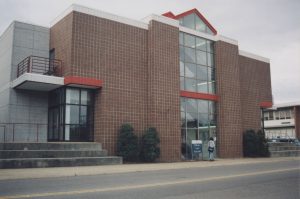 Resources
Old Dominion University Photographic and Multimedia Collection, Special Collections and University Archives, Perry Library, Old Dominion University, Norfolk, Virginia, 23529
Sweeney, Dr. James R., Old Dominion University: A Half-Century of Service, Old Dominion University, Norfolk, Va., 1980.
Building the University, Old Dominion University Libraries Digital Exhibit, 2005.
References
Bookman, Steven and Jessica Ritchie. Old Dominion University: A Campus History Series.  Arcadia Publishing. Charleston, South Carolina, 2017.