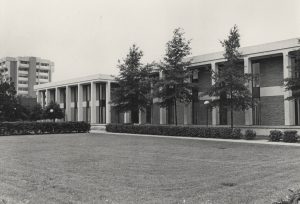 Monarch Hall is one of the five buildings located on Kaufman Mall on the campus of Old Dominion University (ODU). It is currently used as an administrative building housing various Information Technology Services (ITS) and Student Engagement and Enrollment Services (SEES) offices.
History
Monarch Hall was previously home to the Darden College of Education and Professional Studies for almost 50 years. With the rapid increase in student enrollment at ODU in the 1960s, many of which were interested in the field of education, a new building dedicated to Darden School of Education, as it was then known, opened in 1969. Over time, with more classes, programs, and centers developing in the College, a new building was needed, and in 2016, the college moved into a new 120,000 square foot building at the corner of 43rd Street and Hampton Boulevard. In December 2017, after a student initiative, the Board of Visitors voted to rename the old education building Monarch Hall to focus on the university's history as a two-year division of the College of William & Mary.
Resources
References
Bookman, Steven and Jessica Ritchie. Old Dominion University: A Campus History Series.  Arcadia Publishing. Charleston, South Carolina, 2017.