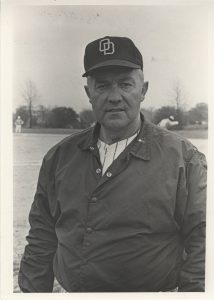 Arthur "Bud" Metheny (1915-2003) was  the long-time coach of the men's baseball and basketball teams at the Norfolk Division of the College of William & Mary, Old Dominion College, and Old Dominion University from 1948-1980 and 1948-1965, respectively. He was also the Athletic Director upon the retirement of Joseph C. "Scrap" Chandler in 1963 and served until Jim Jarrett was hired as director in 1970.
Personal History
Bud Metheny was born in St. Louis, Missouri but moved with his family to the Shenandoah Valley of Virginia. After high school, Metheny attended the College of William & Mary and played on the baseball team. While at William & Mary, he signed a professional baseball contract to play with the New York Yankees and appeared with the major league team from 1943 to 1946, including the 1943 World Series. Metheny also played for the minor league Norfolk Tars and coached the Maury High School boy's basketball team.
Old Dominion Service
In 1948, Bud Metheny was recruited by his former William & Mary baseball coach, Joseph C. "Scrap" Chandler, the Norfolk Division's athletic director, for a teaching position in the Department of Physical Education as well as coach the men's basketball and baseball teams. During his tenure as basketball coach, Metheny built a record of 198-163 and posted 16 winning seasons. One of the most famous athletes to come out of this era was Leo Anthony, an All-American basketball player that scored 60 points in one game in 1961. At this time, the basketball team played in a 500-seat gymnasium in the Administration Building (now Rollins Hall).
As the coach of the baseball team for over 30 years, Metheny compiled a 423-363-6 record, named NCAA Eastern Regional Coach of the Year in 1963 and 1964 when the team won back-to-back regional titles, and captured the Virginia State Championship in 1980 by defeating the University of Virginia. The Monarchs won 66 games, lost 14, and amassed a .300 batting average from 1963 to 1965. The 1964 and 1965 teams won an astounding 26 consecutive games. For all his coaching efforts, Metheny was inducted into the Old Dominion University Sports Hall of Fame in 1983, the Bud Metheny Baseball Complex, opened in 1983, was named in his honor, and the baseball team adopted the New York Yankees' pinstripe uniforms to honor Metheny's time with the team.
Resources
References
Sweeney, James. "Then & Now: Bud Metheny: The Architect of ODU Athletics." Monarch Magazine, Winter 2019. Old Dominion University, pg. 50-51.
Bookman, Steven and Jessica Ritchie. Old Dominion University: A Campus History Series.  Arcadia Publishing. Charleston, South Carolina, 2017.
Bud Metheny Biography, Old Dominion University Athletics Website, http://www.odusports.com/ViewArticle.dbml?DB_OEM_ID=31100&ATCLID=210804009, accessed 2019 April 25.