Old Dominion College was the was the official name of Old Dominion University (ODU) from 1962 to 1969.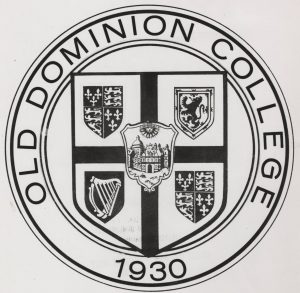 History
When the Norfolk Division of the College of William & Mary became independent in July 1962, one of the first orders of business for the Board of Visitors was to come up with a new name for the school. After soliciting ideas from the public, the board had over 75 names to choose from, including Larchmont College, the University of Tidewater, and Patrick Henry College. On August 2, 1962, the Norfolk Division became Old Dominion College in honor of the Commonwealth of Virginia's nickname. An official College Seal was created in 1963 to incorporate the four seals of England, France, Ireland, and Scotland as well as the seal of William & Mary, the college's parent institution. Master's degrees in elementary education, business administration, history, and English were established in 1964 and the first degrees were handed out at the June 1966 Commencement exercises. With the addition of master's degrees, Old Dominion started to seriously think about obtaining university status. Among the reasons for the change, the college was already divided into four separate schools, there was a need for a university in the region, it would increase faculty morale, and a university would bring more state funding. The Board of Visitors agreed, and the college became Old Dominion University on September 1, 1969.
Resources
Old Dominion University Photographic and Multimedia Collection, Special Collections and University Archives, Perry Library, Old Dominion University, Norfolk, Virginia, 23529.
ODU Photographic Collection, Old Dominion University Libraries Digital Collections, Old Dominion University Libraries.
References
Bookman, Steven and Jessica Ritchie. Old Dominion University: A Campus History Series. Arcadia Publishing. Charleston, South Carolina, 2017.