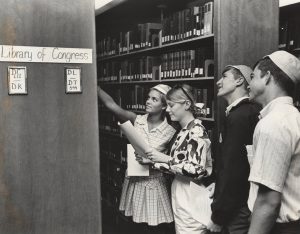 Duck or Duc rules were a set of guidelines for first-year students at the Norfolk Division of the College of William & Mary and Old Dominion College from the 1930s through the 1960s.
History
Like students at William & Mary in Williamsburg, freshmen at the Norfolk Division were given beanies, called duck or duc caps, to wear and had to follow a set of rules. Some of these included bowing to sophomores as they passed by, giving up their seats to sophomores, and singing the school fight song, "Fight, Fight, Fight for the Indians," on command from sophomores. The term "duc" was a shortening of the word "introductory" and referred to the introductory courses the freshmen were enrolled in. Some sophomores would "quack" at freshmen walking by, hence they sometimes were referred to as "duck" caps. The beanies were sometimes decorated by the individual student, mostly their names, and the male caps usually had a "bill" or brim. Once Old Dominion became independent in 1962, the beanies were not as prominent but were still a factor at Orientation for freshmen until the school obtained university status in 1969.
Resources
ODU Photographic Collection, Old Dominion University Libraries Digital Collections, Old Dominion University Libraries.
Old Dominion University Photographic and Multimedia Collection, Special Collections and University Archives, Perry Library, Old Dominion University, Norfolk, Virginia, 23529.
Examples of duc caps can be found on William & Mary's Special Collections Research Center's Artifacts and Ephemera Flickr site.
References
Bookman, Steven and Jessica Ritchie. Old Dominion University: A Campus History Series. Arcadia Publishing. Charleston, South Carolina, 2017.