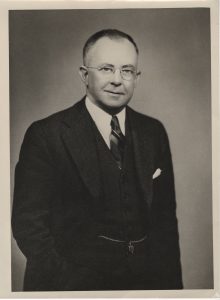 William T. Hodges, former Dean of Men at William & Mary, came to the Norfolk Division in 1933 to serve as Director after the four-month tenure of Edward Gwathmey. In 1941, William & Mary President John Stewart Bryan asked for the resignation of Hodges due to a scandal regarding fixing grades and credit hours for select students. Despite the tremendous support from students and the community, Hodges resigned as Director in April 1941 but stayed at the Norfolk Division until 1942.
Resources
Old Dominion University Photographic and Multimedia Collection, Special Collections and University Archives, Perry Library, Old Dominion University, Norfolk, Virginia, 23529.
ODU Photographic Collection, Old Dominion University Libraries Digital Collections, Old Dominion University Libraries.
References
Bookman, Steven and Jessica Ritchie. Old Dominion University: A Campus History Series. Arcadia Publishing. Charleston, South Carolina, 2017.