Bud Metheny Baseball Complex
The Bud Metheny Baseball Complex, or The Bud familiarly, is home to the Old Dominion University (ODU) baseball team. Located along 43rd Street between Elkhorn Avenue and the ODU Soccer Stadium, the facility is named after Arthur "Bud" Metheny, longtime baseball and basketball coach at ODU. The stadium features 2,500 seats among three sections of aluminum bleachers.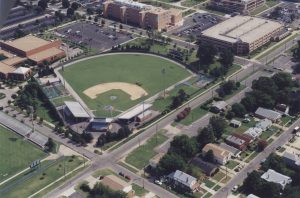 History
Prior to the early 1980s, the baseball team at ODU never had a dedicated baseball field of their own but played in various parks and schools around Norfolk, including the filed across Hampton Boulevard at Larchmont Elementary. In 1979, the State Council of Higher Education for Virginia approved funding for ODU to expand their athletic facilities to include a baseball complex. The facility opened for the 1983 season with a 7-2 win over Millersville University, and was dedicated April 25, 1984 with a game against Virginia Tech. The complex has been host to various tournaments including the Sun Belt and Colonial Athletic Association Championships as well as local and state high school tournaments. The stadium received a $3 million renovation from 2010-2012 featuring a batter's backdrop in center field, upgraded locker rooms, a beer garden, brick walls along the foul lines, a new clock above the scoreboard, and an outfield wall with images of Monarchs that played in the major leagues.
Resources
Old Dominion University Photographic and Multimedia Collection, Special Collections and University Archives, Perry Library, Old Dominion University, Norfolk, Virginia, 23529.
ODU Photographic Collection, Old Dominion University Libraries Digital Collections, Old Dominion University Libraries.
Building the University, Old Dominion University Libraries Digital Exhibit, 2005.
References
Bookman, Steven and Jessica Ritchie. Old Dominion University: A Campus History Series. Arcadia Publishing. Charleston, South Carolina, 2017.