Frank Batten College of Engineering and Technology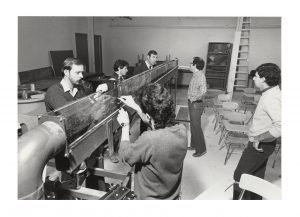 The Frank Batten College of Engineering and Technology is one of the colleges at Old Dominion University (ODU). The dean's office of the college is located in the Engineering Systems Building while most of the classes take place in Kaufman Hall. The college consists of the Civil and Environmental Engineering, Electrical and Computer Engineering, Engineering Management and Systems Engineering, Engineering Technology, Mechanical and Aerospace Engineering, and the Computational Modeling and Simulation Engineering departments. The college was named after Frank Batten, former publisher of the Virginian-Pilot newspaper and former Rector of the Board of Visitors.
History
Shortly after the Norfolk Division of the College of William & Mary was founded, in 1931, the division established a partnership with Virginia Polytechnic Institute (VPI), now Virginia Tech, to offer its engineering program to students in Norfolk. Students would take the preliminary courses the first two years in Norfolk and then transfer to VPI to complete their bachelor degree. Edward White, who would serve as a professor of engineering for 42 years at Old Dominion, became the first director of the program. A four-year engineering program was approved by the State Council of Higher Education for the fall of 1962 and a new School of Engineering was established that same year. To house the new engineering program, construction began in 1963 on Kaufman Hall and the building was dedicated in 1965. In September 1972, the School of Engineering became the first school to offer a doctoral degree at ODU. Three years later, D.K. Patel, originally from India, received the first doctorate from ODU, a degree in engineering. In 1986, as part of the reorganization of ODU, the school became the College of Engineering and Technology. In 2003, as part of a $32 million gift of Frank Batten, the college was renamed the Frank Batten College of Engineering and Technology.
Deans
1962-1966: J. Harold Lampe
1966-1972: Ralph Rotty
1972-1974: Donald Ousterhout
1974-1983: John Weese
1983-1984: Robert Ash, Interim Dean
1984-1997: Ernest J. Cross, Jr.
1997-2002: William Swart
2002-2016: Oktay Baysal
2016-2019: Stephanie Adams
2019-2020: Ben Stuart, Interim Dean
Resources
Old Dominion University Photographic and Multimedia Collection, Special Collections and University Archives, Perry Library, Old Dominion University, Norfolk, Virginia, 23529.
ODU Photographic Collection, Old Dominion University Libraries Digital Collections, Old Dominion University Libraries.
O'Hallarn, Brendan. Built from the Ground Up: The First 50 Years of Engineering at Old Dominion, Outer Banks Press, Kitty Hawk, N.C., 2013.
References
Bookman, Steven and Jessica Ritchie. Old Dominion University: A Campus History Series. Arcadia Publishing. Charleston, South Carolina, 2017.