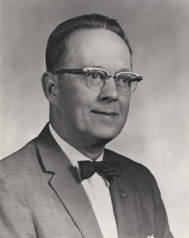 Lewis W. Webb, Jr., the first President of Old Dominion University (ODU), was born in Norfolk, Virginia on March 1, 1910. A graduate of Maury High School, he received his Bachelor of Science degree in 1931 and Master of Science degree in 1932 from the Virginia Polytechnic Institute in Blacksburg. He served as an Instructor of Physics and Mathematics at the Norfolk Division of the College of William and Mary from 1932 to 1942 at which time he became Assistant Director of the College. He was granted tenure in 1938 and promoted to assistant professor in 1940 and full professor in 1944. From 1940 to 1944 he served as director of the Defense and War Training Program. He was appointed director of the Norfolk Division in 1946. In 1957 the title of Director was changed to Provost and in 1960 the title was changed again to President of the Norfolk College of William and Mary. After the separation of the Norfolk College from the Colleges of William and Mary system in 1962, Lewis Webb became the first president of Old Dominion College. He resigned as president in July 1969 to return to teaching physics. He served as chairman of the Department of Physics and Geophysical Sciences during the 1973—1974 academic year. At his retirement in 1974 he was awarded the title "President Emeritus." Dr. Webb was married to the former Virginia F. Rice. They had two children, Dr. George Randolph Webb and Mary Lewis Webb. Dr. Webb died in 1984. The Webb University Center is named in his honor.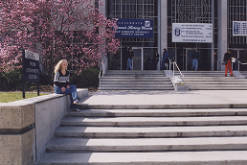 Directorship and Presidency
Known as "the Father of Old Dominion," Webb was a hands-on administrator that took a personal interest in the lives of the faculty, staff, and students. He worked with the General Assembly to raise funds for new buildings and support his faculty, kept the Norfolk Division open during
World War II by offering war training courses, and even fixed the school's furnace on cold nights. President Webb also included members
of the community in making important administrative decisions through his Advisory Board.
Not only did President Webb take the institution from a two-year division to an independent college, he also laid the groundwork for Old Dominion to become a university. President Webb established the advisory board, similar to today's board of visitors, added bachelor's and master's degree programs, and organized the academic departments into several schools, each with their own dean.
In 1960, the Norfolk Division became part of the Colleges of William & Mary system, and as a result, became the Norfolk College of William & Mary. When the General Assembly decided to dissolve the system two years later, Norfolk College became Old Dominion College as of July 1, 1962. A 13 member Board of Visitors was selected by Governor Albertis Harrison, including future Rector Frank Batten.  Soon, masters degree programs began to emerge with the first masters Commencement ceremony taking place in June 1966. By 1968, there was a feeling on campus that the college should become a university as it was already divided into four schools, universities would receive more funding from the state, and it would be a great boost in morale with current and future faculty. In June 1969, the Board of Visitors voted for Old Dominion to become a university as of September 1, 1969.
Awards
Dr. Webb has received many honors and awards over the years for his distinguished service in higher education. He was awarded an honorary doctor of laws degree by Hampden-Sydney College in 1967. In 1960 he received citations for outstanding services to the Tidewater community from the cities of Norfolk, South Norfolk, Portsmouth and Virginia Beach, and from the Boards of Supervisors of Princess Anne County and Norfolk County. His many awards and groups presenting these awards include: Sales Executive of the Year (1956), Norfolk- Portsmouth Sales Executive Club; Brotherhood Award, The Catholic Club of Norfolk (1958); Outstanding Service Award (1961), Virginia Society of Professional Engineers, Tidewater chapter; Honors Award (1962), Civitan Club of Norfolk; First Citizen's Award (1962), Cosmopolitan Club of Norfolk; Distinguished Service Award (1963), Engineering Societies of Tidewater; Engineer of the Year (1964), Virginia Society of Professional Engineers; Maury Achievement Award (1968), Maury High School, and Brotherhood Award (1968), National Conference of Christians and Jews.
Service
Dr. Webb participated actively and held office in numerous community and professional organizations. He was a past president of the Norfolk Rotary Club and of the Engineers Club of Hampton Roads. He was a former member of the boards of directors of the Norfolk Chamber of Commerce, Norfolk Public Library, Norfolk General Hospital, Norfolk Forum, Norfolk Symphony and Choral Association, Junior League of Norfolk, Country Day School and the Norfolk Academy.
He served on the Mayor's Youth Commission and the Mayor's Committee for the Establishment of a Medical School in Norfolk. He was a former member of the Committee on Junior Colleges of the Southern Association of Colleges and Schools, a member of the Education Committee of the Virginia Association of Professions; and former chairman of the Physics, Astronomy and Mathematics Section of the Virginia Academy of Science.
Dr. Webb also served as a member of the board of directors of the National Commission of Accreditation of Service Experiences of the American Council on Education and served as chairman in 1969. He was appointed by Governor Mills E. Godwin to the Electricity Cost Commission in 1975.
Dr. Webb was also a licensed professional engineer since 1955 and had advanced studies at the College of William and Mary, U.S. Naval Academy and the University of North Carolina.
He was an active member of the First Presbyterian Church in Norfolk and served as superintendent of the Sunday School, chairman of the Long-range Planning Committee, as deacon and as elder. He also served as a member of the Public and Higher Education Ministry of the Synod of the Virginias.
Resources
Office of the President. Lewis W. Webb, Jr. Records, Special Collections and University Archives, Patricia W. and J. Douglas Perry Library, Old Dominion University Libraries, Norfolk, VA 23529.
Old Dominion University Photographic and Multimedia Collection, Special Collections and University Archives, Patricia W. and J. Douglas Perry Library, Old Dominion University Libraries, Norfolk, VA 23529.
University Presidents, Old Dominion University Libraries Digital Exhibits, 2009