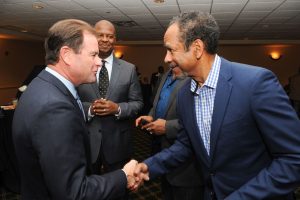 John R. Broderick became the eighth president of Old Dominion University following the resignation of Roseann Runte in 2008. Since then, President Broderick has been a champion for inclusiveness at Old Dominion. He implemented a reorganization of the Office of Affirmative Action into the Office of Institutional Equity and Diversity, created the Office of Intercultural Relations, and set up the President's Task Force for Inclusive Excellence. For his initiatives on diversity, the Diversity Champion Award was renamed in his honor.
Accomplishments during Tenure
Eager to embrace innovation, President Broderick has established initiatives to set Old Dominion apart from other universities. In 2010, he instituted the Climate Change and Sea Level Rise Initiative, now known as the ODU Resilience Collaborative, to examine the threat of sea level rise and its effects on Hampton Roads. With generous support from the Strome Family Foundation, Broderick launched the Strome Entrepreneurial Center in 2013, and in 2016, he established the Old Dominion University Innovation Center with the City of Norfolk.
In addition to his innovation, diversity, and student success initiatives, President Broderick has proven to be an accomplished fundraiser as well. He has successfully acquired funding for building projects, organized the 85 Hours of Giving campaign as part of Old Dominion's 85th anniversary celebration, and increased the size of the university's endowment by 45 percent from 2010 to 2016. All of these efforts have helped Old Dominion attract the best students from around the world.
Resources
Old Dominion University Photographic and Multimedia Collection, Special Collections and University Archives, Patricia W. and J. Douglas Perry Library, Old Dominion University Libraries, Norfolk, VA 23529.
University Presidents, Old Dominion University Libraries Digital Exhibit, 2009
References
Bookman, Steven and Jessica Ritchie. Old Dominion University: A Campus History Series.  Arcadia Publishing. Charleston, South Carolina, 2017.