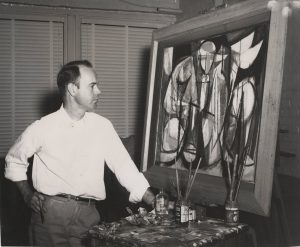 Chalres Sibley was the founder and first chair of the Department of Art at Old Dominion University (ODU). A noted painter, Sibley taught all the art classes for a period of time after he arrived in 1955 out of a room in the Old Larchmont School. He received his bachelor degree from Ohio State University, and graduate degrees from Columbia University and Iowas State University.
Service to Old Dominion University
Charles Sibley came to the Norfolk Division of the College of William & Mary in 1955 after teaching at Duke University and the University of Texas. For a period of time, Sibley was the only person teaching fine art courses at the division, but with the expansion of four-year programs in the late 1950s and 1960s, more faculty were added to the program. He chaired the Department of Art for 10 years, received the Louis Jaffe Chair, and retired from academic work in 1980.
Resources
Old Dominion University Photographic and Multimedia Collection, Special Collections and University Archives, Perry Library, Old Dominion University, Norfolk, Virginia, 23529.
UNews, University News, and The Courier, 1971-2009, Old Dominion University.
References
Bookman, Steven and Jessica Ritchie. Old Dominion University: A Campus History Series. Arcadia Publishing. Charleston, South Carolina, 2017.