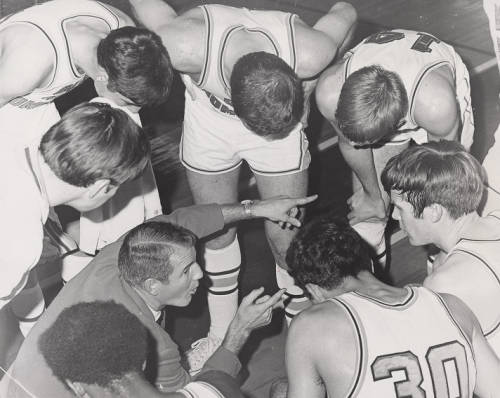 Sonny Allen (1936-2020) was the men's basketball coach at Old Dominion University (ODU) from 1965 to 1975, after long-time basketball coach Arthur "Bud" Metheny stepped down. Allen is credited from raising the awareness of ODU basketball from a small, rag-tag team to national prominence as an NCAA Division II powerhouse.
Personal History
Allen grew up in Moundsville, W.Va and went to college at nearby Marshall University, where he played basketball. Before coming to ODU, Allen coached the freshman team at Marshall University. After leaving ODU in 1975, Allen was the men's basketball coach at South Methodist University (SMU) and Nevada, coached the Las Vegas Silver Streaks in the World Basketball League, the Santa Barbara Islanders in the Continental Basketball League, and the Sacramento Monarchs in the Women's National Basketball Association from 1999 to 2001. Allen retired in Reno, Nevada and passed away on September 11, 2020.
Old Dominion Service
When Sonny Allen came to ODU in 1965, the men's basketball program was playing basketball games in local high school gymnasiums. Basketball games during Allen's time were played in the Health and Physical Educaiton Builidng or Norfolk Scope. Allen recruited Arthur "Buttons" Speakes, the first African American athlete to earn an athletic scholarship from a predominately white school in Virginia, in 1965. Known as the "Runnin' Monarchs," Allen's teams used the fast break to throw unsuspecting opponents off their game. Under his leadership, the Monarchs won 181 games, played in the 1971 NCAA Division II Championship game, and won the 1975 NCAA Division II national championship with the help of Oliver Purnell and Wilson Washington, who also earned tournament MVP honors. Allen resigned from ODU after the 1975 season and took the head coaching position at Southern Methodist University (SMU).
Resources
Old Dominion University Photographic and Multimedia Collection, Special Collections and University Archives, Patricia W. and J. Douglas Perry Library, Old Dominion University Libraries, Norfolk, VA 23529.
ODU Photographic Collection, Old Dominion University Libraries Digital Collections, Old Dominion University Libraries.
References
Bookman, Steven and Jessica Ritchie. Old Dominion University: A Campus History Series. Arcadia Publishing. Charleston, South Carolina, 2017.
Minium, Harry, "Sonny Allen, Who Built the Foundation for ODU Basketball and Was an Offensive Innovator, Has Passed Away," Old Dominion University Athletics Website, https://odusports.com/news/2020/9/11/mens-basketball-sonny-allen-who-built-the-foundation-for-odu-basketball-and-was-an-offensive-innovator-has-passed-away.aspx, accessed 2020 September 14.