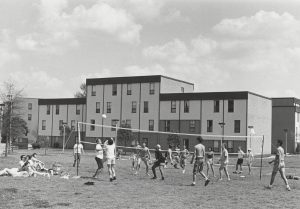 The Powhatan Apartments complex is an apartment-style dormitory complex located off Powhatan Avenue on the west side of the Old Dominion University (ODU) campus. The complex is made up of two areas, Powhatan I and Powhatan II, each made up of several houses where each apartment houses four students.
History
By the mid-1970s, there were only two residence hall on campus, Rogers Hall and Gresham Hall, causing an on-campus housing shortage. As a result, ODU was forced to place students into local motels. In 1978, to meet the flexible needs of both single and married students, the university opened the Powhatan Apartments (Powhatan I) with 96 units to house 384 students. Another complex (Powhatan II) was added in 1982 to keep up with the demand for more student housing. Today, the complex consists of 177 apartments that house 706 residents.
Resources
Old Dominion University Photographic and Multimedia Collection, Special Collections and University Archives, Perry Library, Old Dominion University, Norfolk, Virginia, 23529.
ODU Photographic Collection, Old Dominion University Libraries Digital Collections, Old Dominion University Libraries.
Building the University, Old Dominion University Libraries Digital Exhibit, 2005.
References
Bookman, Steven and Jessica Ritchie. Old Dominion University: A Campus History Series. Arcadia Publishing. Charleston, South Carolina, 2017.