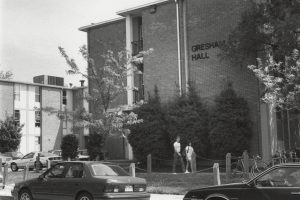 Gresham Hall is one of several dormitories on the campus of Old Dominion University (ODU). The building is located on the east side of campus near the University Village between 48th Street and 49th Street. Made up of two buildings, the Gresham Complex consists of the original, H-shaped structure, dubbed Gresham Main, which can hold up to approximately 300 students, and Gresham East, which can hold an additional 135 students.
History
Shortly after the first dormitory, Rogers Hall, opened in 1964, requests for on-campus housing grew and an additional residence hall was needed. Gresham Hall, named in honor of E.T. Gresham, a member of the Advisory Board formed by Lewis W. Webb, Jr., opened in 1966.
Resources
Old Dominion University Photographic and Multimedia Collection, Special Collections and University Archives, Perry Library, Old Dominion University, Norfolk, Virginia, 23529.
ODU Photographic Collection, Old Dominion University Libraries Digital Collections, Old Dominion University Libraries.
Building the University, Old Dominion University Libraries Digital Exhibit, 2005.
References
Bookman, Steven and Jessica Ritchie. Old Dominion University: A Campus History Series. Arcadia Publishing. Charleston, South Carolina, 2017.