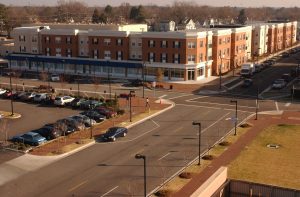 The University Village, or the Village familiarly, is a 75-acre, mixed-use development across Hampton Boulevard from the main campus of Old Dominion University (ODU).
History
Construction of the University Village began in 1999 and the first building to be constructed was the Ted Constant Convocation Center, which opened in 2002. The most current project to be completed in the Village is the new Barry Art Museum at the corner of Hampton Boulevard and 43rd Street. In addition to shops and restaurants, the Village includes the Mitchum Basketball Performance Center, University Village Apartments, University Village Bookstore, Innovation Research Park, the Public Safety office, the Arts District, Children's Learning and Research Center (CLRC), a hotel, and two parking garages.
Resources
Old Dominion University Photographic and Multimedia Collection, Special Collections and University Archives, Perry Library, Old Dominion University, Norfolk, Virginia, 23529.
ODU Photographic Collection, Old Dominion University Libraries Digital Collections, Old Dominion University Libraries.
Building the University, Old Dominion University Libraries Digital Exhibit, 2005.
References
Bookman, Steven and Jessica Ritchie. Old Dominion University: A Campus History Series.  Arcadia Publishing. Charleston, South Carolina, 2017.