Mitchum Basketball Performance Center
The Mitchum Basketball Performance Center is a dedicated practice gymnasium with conditioning and training rooms, coaches suites, and player lounges for the men's and women's basketball teams at Old Dominion University (ODU). The 25,000 square-foot building is located behind the Ted Constant Convocation Center in the University Village. The building is named after Bernett and Blanche Mitchum.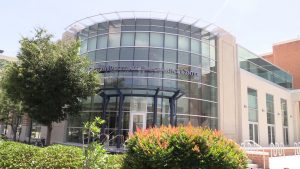 History
Groundbreaking for the center took place in October 2015 and the building was completed in May 2017. The privately-funded performance center cost about $8.4 million to build and was financed by the Mitchum family as well as other basketball supporters.
Resources
ODU Photographic Collection, Old Dominion University Libraries Digital Collections, Old Dominion University Libraries.
Building the University, Old Dominion University Libraries Digital Exhibit, 2005.