The Barry Arts Building is home to the Department of Art and features classrooms, studio space, the Elise N. Hofheimer Art Library, and the Jean Outland Chrsyler Library on the campus of Old Dominion University (ODU). The 39,000 square-foot building is located along Monarch Way between 46th and 47th Streets in the University Village.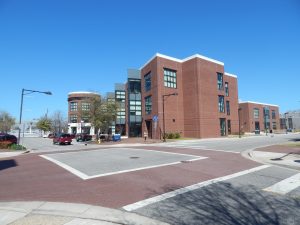 History
The Barry Arts Building was completed in 2015 as part of the Arts in the Village project to create an arts community at ODU. The building is named after longtime ODU benefactors Richard and Carolyn Barry. Prior to 2015, the visual arts were housed in both the Visual Arts Building and the F. Ludwig Diehn Center for the Performing Arts.
Resources
Old Dominion University Photographic and Multimedia Collection, Special Collections and University Archives, Perry Library, Old Dominion University, Norfolk, Virginia, 23529.
ODU Photographic Collection, Old Dominion University Libraries Digital Collections, Old Dominion University Libraries.
Building the University, Old Dominion University Libraries Digital Exhibit, 2005.
References
Bookman, Steven and Jessica Ritchie. Old Dominion University: A Campus History Series. Arcadia Publishing. Charleston, South Carolina, 2017.