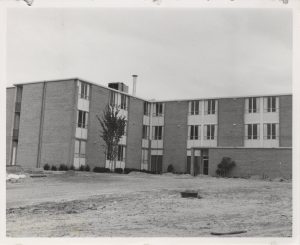 Rogers Hall, one of the two buildings in the Rogers Complex, is a residential dormitory catered to incoming freshmen located on the east side of Hampton Boulevard on 49th Street. Rogers Main, a three-story H-shaped building, houses approximately 300 students while another building, Rogers East, houses approximately 140 additional students.
History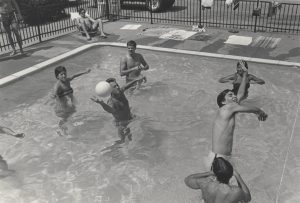 Prior to the early 1960s, ODU was a commuter school with no residential housing on campus for students. In September of 1964, Rogers Hall, named in honor of Crawford S. Rogers, a former president of Norfolk Shipbuilding and a member of the Advisory Board created by Lewis W. Webb, Jr., opened as the first dormitory at Old Dominion. With the growth of enrollment in the 1960s, a second dormitory, Gresham Hall, opened two years later in 1966. The original Rogers Hall contained a swimming pool for the students to enjoy but was drained and paved over by the mid 1980s.
Resources
Old Dominion University Photographic and Multimedia Collection, Special Collections and University Archives, Perry Library, Old Dominion University, Norfolk, Virginia, 23529.
ODU Photographic Collection, Old Dominion University Libraries Digital Collections, Old Dominion University Libraries.
Building the University, Old Dominion University Libraries Digital Exhibit, 2005.
References
Bookman, Steven and Jessica Ritchie. Old Dominion University: A Campus History Series.  Arcadia Publishing. Charleston, South Carolina, 2017.