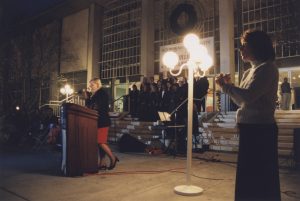 Illumination was a tradition celebrating the holidays at Old Dominion Univeristy from 2001 to around 2010.
History
The first Illumination celebration took place on November 28, 2001 on the front steps of Webb University Center. Created by ODU President Roseann Runte, the purpose of Illumination was to celebrate hope and unite the campus in the wake of the terrorist attacks of 9/11. During the ceremony, several international students greeted the audience in their native languages, other students would share how they celebrated the holidays, and a candle lighting ceremony was also included. The main event was the lighting of two trees and a large wreath above the entrance to Webb University Center. The Diehn Chorale and the local theater community provided performances as well but the tradition died out around 2010.
Resources
Old Dominion University Photographic and Multimedia Collection, Special Collections and University Archives, Perry Library, Old Dominion University, Norfolk, Virginia, 23529.
ODU Photographic Collection, Old Dominion University Libraries Digital Collections, Old Dominion University Libraries.
References
Mace & Crown, Old Dominion University, 2001-2002.