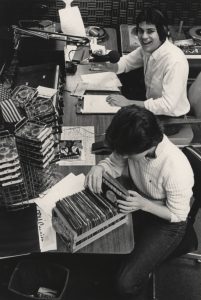 WODU is the student-run radio station at Old Dominion University (ODU). The non-profit station runs 24 hours a day, as well as streaming online, and includes both radio programming and television production. The organization also provides on-site training in all areas of media production.
History
The Norfolk Division of the College of William & Mary established a campus radio station in 1955, broadcasting a variety of musical and education programs from its Technical Institute. After a break in broadcasts, a group of students revived the radio station in 1975 as a student organiation. Broadcasting from a broom closet in Roger Hall. The station, renamed WODU, moved into Webb University Center in the 1980s.
Resources
WODU Studios: The Heartbeat of Old Dominion University, https://www.wodustudios.com/
ODU Photographic Collection, Old Dominion University Libraries Digital Collections, Old Dominion University Libraries.
Old Dominion University Photographic and Multimedia Collection, Special Collections and University Archives, Perry Library, Old Dominion University, Norfolk, Virginia, 23529.
References
Bookman, Steven and Jessica Ritchie. Old Dominion University: A Campus History Series. Arcadia Publishing. Charleston, South Carolina, 2017.