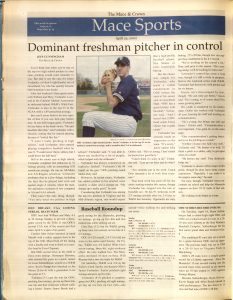 The Mace & Crown is the student newspaper at Old Dominion University (ODU). The newspaper covers campus news and athletic events, issues in pop culture, as well as regional and national news and events.
History
Before there was the Mace & Crown, the High Hat was the student newspaper at the Norfolk Division of the College of William & Mary. Debuting in November 1930 with Wilson D. Chandler as editor, the High Hat covered campus news, provided updates on athletic games, and featured columns such as "Keyhole Kapers" and the "Collegiate Digest." The paper started out as a semimonthly publication but eventually turned into a weekly newspaper as student enrollment grew at the Norfolk Division. When the institution became the Norfolk College of the College of William & Mary in 1961, the newspaper changed it's name to the Mace & Crown. The first issue of the Mace & Crown was published in October 1961 and began as a monthly magazine. When the Norfolk Division became Old Dominion College in 1962, the newspaper became a bi-weekly newspaper that fall. With readership declining with the advancement of technology in the 21st century, the Mace & Crown developed an internet presence and created stories just for online readership. The last issue of the weekly newspaper was in Spring 2017, moving to a quarterly magazine that fall.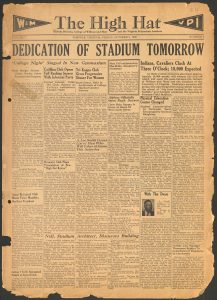 Resources
Mace & Crown online, https://www.maceandcrown.com/
Mace & Crown, Old Dominion University, 1961-2005.
References
Bookman, Steven and Jessica Ritchie. Old Dominion University: A Campus History Series. Arcadia Publishing. Charleston, South Carolina, 2017.