Pi Kappa Alpha Fraternity
The Iota Zeta Chapter of the Pi Kappa Alpha fraternity at Old Dominion University (ODU) was established in 1965 as a colony and was confirmed as a chapter the following year.
History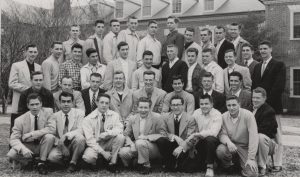 Delta Omega Phi was established at the Norfolk Division of the College of William & Mary in 1937 and was the precursor to the Pi Kappa Alpha fraternity. As was the case with most of the student organizations at the division, Delta Omega Phi was a local organization with no affiliations to any national chapter fraternities. The symbol of Delta Omega Phi is the diamond and the four sides of the diamond represent brotherhood, scholarship, social, and athletics. Members of the organization were involved in all aspects of campus life including four of the five starters on the varsity basketball team. Delta Omega Phi was known for its annual Playboy Dance. As the administration at Old Dominion College began pushing for national affiliation of its fraternities and sororities in the 1960s, on February 6, 1965, Delta Omega Phi was installed as a colony of Pi Kappa Alpha with 38 members. The first Pi Kappa Alpha house was located at 1066 W. 45th Street in Norfolk, Virginia. Two of the founders of the national chapter of Pi Kappa Alpha, Frederick Southgate Taylor and Littleton Waller Tazewell, are burried at Elmwood Cemetery, approximately three miles from campus.
Over the years, the fraternity began to wane and it eventually lost its charter. In December 1993, an effort at recolonization took place, and in April 1995, 103 members were accepted into the re-established Zeta Iota Chapter of Pi Kappa Alpha at ODU.
Resources
Delta Omega Phi & Zeta Iota, Hampton Roads PIKE Alumni Association, http://www.hrpikes.com/delta-omega-phi–zeta-iota.html, accessed November 17, 2017.
Old Dominion College, "Troubadour, 1963" (1963). Yearbooks. 17. https://digitalcommons.odu.edu/scua_yearbooks/17, accessed November 27, 2017.
Old Dominion University Photographic and Multimedia Collection, Special Collections and University Archives, Perry Library, Old Dominion University, Norfolk, Virginia, 23529.