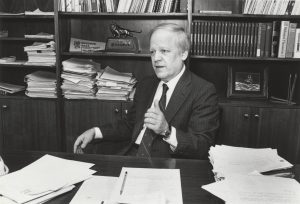 Donald A. Myers (1932-2019) served as the Dean of the Darden School of Education, now the Darden College of Education and Professional Studies, and was chair of the Department of Curriculum and Instruction, later the Department of Teaching and Learning at Old Dominion University (ODU). Dr. Myers grew up in Omaha, Nebraska. He received his undergraduate degree from the University of Nebraska-Omaha, then obtained his master's degree and doctorate from the University of Chicago. Before coming to Old Dominion in 1985, he taught at SUNY-Albany and Oklahoma State, and was Dean of Education at the University of Nebraska-Omaha.
Service to Old Dominion and Profession
Dr. Myers came to ODU in 1985 to serve as the new Dean of the School of Education, which became a college the following year, after the resignation of Ulysses S. Spiva in 1984.  Having worked as a high school teacher and college professor in urban areas, Dr. Myers wanted to stregthen ODU's ties to the Norfolk school system as well as emphasize scholarship for faculty in the college. After stepping down as dean in 1993, he taught in the Department of Curriculum and Instruction, later serving as the Chair, until he achieved Faculty Emeritus status upon his retirement in 2011. in addition to his teaching and research responsibilities, Dr. Myers served as Director of the Hampton Roads Institute for the Advanced Study of Education from 1995 to 2001. During his career he held positions on the National Commission on Standards for the American Federation of Teachers and served as a member of the Board of Directors of the National Standards for Education for the National Education Association. Dr. Myers authored several books, book chapters, and journal articles, including the book "Teacher Power: Teacher Professionalization and Collective Bargaining" in 1973. He was also invited as a keynote speaker for various local, state, and national organizations.
References
Old Dominion University Faculty and Staff Directories, Special Collections and University Archives, Patricia W. and J. Douglas Perry Library, Old Dominion University Libraries, Norfolk, VA 23529.
Minium, Harry. "Longtime Dean of Darden College of Education Dies at 86," News@ODU, Old Dominion University, 2019 February 8. Accessed 2019 February 14 at https://www.odu.edu/news/2019/2/donald_myers_obit#.XGXcuUJKhEZ.
"Education Dean Pledges to Strengthen Urban School Ties." The Curier, Old Dominion University. Office of University Relations, August 30, 1985.